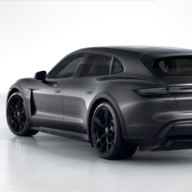 Joined

Jul 3, 2021
Messages
Reaction score

633
Location
Vehicles

BMW M4 Convertible, Mini Cooper S, CT4S 2022

In case some get concerned, I noticed some beading of watering in what at first appeared to be within the rear light assembly, specifically in the Porsche lamp area.
I took pic after blowing most of it out and so not the best but if you are washing your car and later during drying and/or polishing you notice this as I did this PM, I don't think it is anything of concern.
On closer examination there is a gap here that runs the length of the lamp assembly and an internal ridge or lip that from the outside would make beading water here look like it was within the housing but I believe it is not. A blower can easily move the beads along - just an odd setup and one I had not experienced in previous cars but again, no big deal!
Here she is after first basic clean / spray wax polish before handing off to shop Monday for fender painting and STEK install:
And here are the remnant water beads - I KNOW it looks lame here but had cleared 90% out with blower by this time
- but sharing the location at least where you will see this happen:
And a side view of where the gap is - look at yours more closely and you can see how the beads line up as though within the plastic enclosure from the outside:
We did a quick 80 mile tour of east Houston, taking in the San Jancinto Monument, Battleship Texas and Baytown Nature Reserve before heading back via I-10 and stopping at the EA 350kW chargers in Walmart near Channelview.
My third public charging and all EA and all 100% success with Plug and Charge. As I had a fairly high SoC to start with I did not get above 105kW at the charger i.e. I assume if I was closer to 20% I'd see a faster rate (or of course the charger was limited for some reason).
A few pics of above:
Massively embarrassing but managed to chop the top of the monument - turned out despite literally no one there, the lift was out of action so no trip up the interior.
Nearby walk to Battleship Texas - def in need of more maintenance:
Bald eagle atop a power cable tower in Baytown Nature Reserve - only had phone with me and a long way away (on max. zoom):
Pretty much the max. rate I got at the 350kW charger but started at over 60% SoC - PNC worked again, 3 for 3 in Houston: