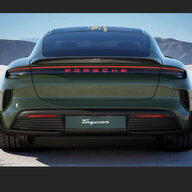 First Name

felix
Joined

Dec 13, 2018
Messages
Reaction score

324
Location
Vehicles

Porsche: Taycan ordered; Tesla: orig Roadster, X, 3, new roadster reserved

I have to agree that if they list cars delivered after August as 2020 models, that's a huge extra depreciation hit for no good reason.

But any Taycan is gonna lose $35k in the first year, no matter when they release it. Luxury sedans have terrible resale value usually.
In my experience with multipleTesla Ss and Xs behind me, electric cars do not depreciate as badly as ICEs since there are still only a few manufacturers and the initial price is often only a bit higher new than what a lot more people behind want to pay to go electric but when on the used market they then do sell quickly and for a good price. Have not sold my Model 3 yet but that on the other hand will not be my problem.... it will be Porsche's.
(They have however, given me a good trade-in price.