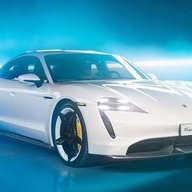 Joined

Feb 22, 2019
Messages
Reaction score

430
Location
Vehicles

Ford Fiesta

Of those teaser photos, all but the one from the rear could conceivably come from the unveiled version of the mule car. The side and front shots match up very closely to the latest "spy" photos.

The shot from the rear, well, there's no way that's going to be production. I'm guessing it will be the same sort of curves but significantly less exaggerated and likely more linear rather than curved. You can see from the mule shots that the rear end is significantly extruding out from the body, nice wide rear haunch, but without the dramatically rounded tire flares. I'd wager those turned out to be a no-go for aerodynamics and efficiency.

The mule is the Taycan with probably some very clever camouflage and potentially a few Panamera panels to hide the most dramatic parts. Period. The unveil will surely look better than the mules but there is a reason they changed the name from Mission E; it's not the same car. Maybe they will release a limited GT version that's much closer to the original concept but the Taycan will be the Taycan, not the Mission E.
Yeah, I think it will have really similar proportions to the Audi E-Tron GT, but in my opinion the rear of the Taycan will look nicer than the E-tron GT's