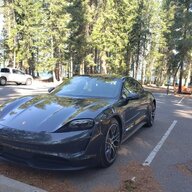 First Name

Frank
Joined

Sep 6, 2019
Messages
Reaction score

434
Location
Vehicles

Taycan 4S

There are various threads regarding range and efficiency as it's obviously a huge deal. I'm hoping we can use this thread for -owners only- to post their actual use efficiency/range logs noting things like country/state, temperature, weather, driving style, elevation gain, from which version/tires/mode. Ideally we'd just do single, clean posts with efficiency logs and try to avoid making this a conversational thread; more of a reference thread for people in different areas to gauge how far they can go.

Admin, let me know if this is a problem. I thought it'd be helpful to compile as many range logs as possible in a clean & concentrated thread. The more data points we have, the better we can all feel about range.

Range Log; 07/31/20; Taycan 4S/20" summer tires
Location; Seattle to Westport & back
Elevation change; Nominal
Weather; 80 degrees avg.
Mileage; 221 miles
Battery % used; 80%
Driving mode; Range mode at avg. 74 mph, AC full approx. 180 miles/Sport Plus at avg. 65 mph for approx 41 miles
Driving style; Fairly aggressive, including 12 or so very aggressive 50-90 mph pulls for passing. True Porsche driving, no extra care taken.