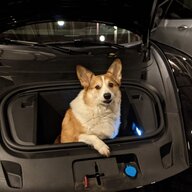 First Name

Sherman
Joined

Jun 21, 2021
Messages
Reaction score

89
Location
Vehicles

2020 Taycan 4S

After 6 months and 12K miles, I finally got around to taking my 4S to an Autocross event hosted by the PNWR PCA down over at Bremerton.
Conditions was damp and rather moist in the morning, but mostly dried up by 4th runs expect for a damp spot at the last slalom. Car is still on the stock 245/285 Michelins Pilot Sport 4 that has 10K+ miles. Started at 36/32 PSI cold which was really pushy at the start and as I worked thru the runs I ended up settling at 36/36 PSI by run 4 which was mostly tolerable for me. At the end of run 4, the front tires was starting to get warm, but the rears were still pretty cold. Plan is to go w/ 275 or 285 in the front and then 305 or 315 in the rear similar to the Turbos. I'm keeping the car in SCCA SS class rules so what I'm running is going to be dictated by class rules. Running on truly competitive tires, I'm fairly certain I can drop the times by another 2-3s, and if you throw an alien in, that's probably another 1-2s.
Body roll and composure was more than adequate given that it's still stock. It's still a really wide and heavy car so the laws of physics still apply. Brake feel is interesting and a bit unnerving at first. I think because of the break blending the top half of the travel feels light but once I get on the mechanical I started getting the stiffer pedal feel that I prefer. Not too big of an issue and it's something that I intend to focus on in the future. I'd like more bite from the standard brakes, so once I burn thru the OEM pads, plan is to see if I can get something like the Hawk HP+. Primary concern is still how wide the car is. Given its width, tight slaloms are painful.
For those in the Seattle area, I was able to easily to get from the northside of Seattle to Bremerton via the Tacoma Narrows Bridge, do 4 runs and multiple additional launches cause people were interested in the car. and then back to Home w/ 25% battery still left.