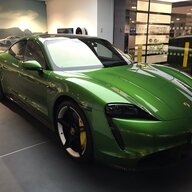 First Name

Philip
Joined

Nov 15, 2020
Threads
Messages
Reaction score

145
Location
Vehicles

2022 Turbo S

As most of you will know, if you buy a new Porsche you get a complimentary half day at the PEC, Silverstone in the model of car you've ordered.
Having a deposit down on a Taycan Turbo S, I had my session on Saturday last weekend.
I have a Taycan 4S at the moment (with the performance battery and surface coated brakes), and I thought this was a quick car, the launch control on the Turbo S is in another world. And the power of the ceramic brakes to slow the car to a stop was breathtaking (literally).
Another useful factor is that there were a number of Taycans there in different colours. I've ordered my Turbo S in Mamba Green which was the colour of my instructor's car. I liked it from the pictures I have seen, but it is a seriously nice colour in the flesh.
I live in Norfolk and the drive to Silverstone is about 140 miles, so I can't do the return trip on one charge. I was delighted to find two fast chargers and six or so other chargers available in the car park. I used a fast charger, and went from 42% to 100% in about 50 minutes (whilst I was enjoying a very nice breakfast).
They have an Ice Hill (ceramic tiles with fountains) you drive up and down and a kickplate (ceramic tiles and fountains again, but with a plate that kicks the rear of the car when you drive over it to induce a spin). I was concerned that the weight of the car would make it difficult to control on both areas, but it handled very well. When it did let go, it was fairly easy to catch.