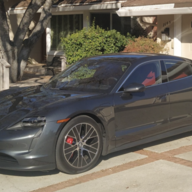 First Name

Ron
Joined

Dec 30, 2019
Messages
Reaction score

365
Location
Vehicles

Bolt EV, Taycan 4S (Sched Sept)

Well I see a rather hopeful video on Taycan 4S range test in Germany by the somewhat little known "The Autobahn Specialist".
I have watched most of it though understand none. Read and translated the comments. The math seems correct but I don't know how to gauge the driver or the route.
Maybe a German speaking forum member can contribute their feedback??? I know that the comparison was done with respect to a Tesla P85 but I am not trying to bring up that debate, just that Bjorn Nyland's test was tried on the Taycan which seems reasonable.
Here are comments in English:
BAVARIA

Porsche Taycan 4S 576 km range! (TBTP) Big surprise !!! VS Tesla P85D range test
416 views

The Autobahn Specialist
416 subscribers
Published on Mar 24, 2020
I drove both cars in perfect conditions. 16 degrees. No wind.
Driven route 130 km Munich to Oberau to Munich on A95

Consumption Munich Autobahn start to Shell Oberau: 16.1 kW per 100 km
Consumption Shell Oberau to Munich Sendling: 14.1 KW per 100 km

Average 15.1 KW per 100 km

Total route traveled on this day: Augsburg Munich (130 km / h)
(30 km city traffic) / Straßlach / Munich Sendling / Oberau / Munich Sendling / range test / Landsberg / Augsburg

Odometer reading early 1580 km State of Charge 91%
Odometer reading at the end of 1992 km State of Charge 18%

Distance traveled 412 km

City traffic 30 km,
Range test 130 km at 90 km / h
Mixed highway operation 252 km (60 to 130 km / h)

20 inch winter wheels (2.9 bar)

Porsche KM range according to display: 373 km Here tipical range 23.3 KW per 100 km charging time 0 to 80% (hypercharger or similar): 22 minutes
Porsche Taycan 4S 576 km Reichweite ! (TBTP) Große Überraschung!!! VS Tesla P85D Reichweitentest