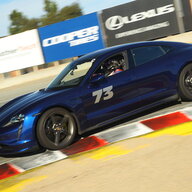 First Name

David
Joined

Jan 28, 2019
Messages
Reaction score

3,203
Location
Vehicles

Tesla(s), 911 GT3, Boxster S, Bolt, Taycan, Cayenn

Hello all,
I'm thinking about a pre-labor day Taycan Fest - participation is voluntary - and will be socially distanced w/masks please!!
Open to all automotive enthusiasts - but particular attention to Taycan owners and those with a Taycan on order, or other EV's
I'm going to take lunch @ Surf City Sandwiches in Aptos - CA this Friday @ 11:45 am - and probably hang out until at least 1 pm…Surf City makes fantastic sandwiches with a bit of a spicy bite - I can highly recommend the "Beer Barnacles" and they are best "hot & fresh" - recommend you order online prior to arriving as they pride themselves on quality and won't be rushed for properly making your order.
I'll be there with my road warrior kit and happy to answer any questions and just share my enthusiasm for this vehicle and other EV's!
https://surfcitysandwichinc.menufy.com/#/
SURF CITY SANDWICH
4101 SOQUEL DR STE B1
SOQUEL, CA 95073
(831) 346-6952
take a nice drive with your Taycan across Hwy 17 - and come visit the coast - and let's all bask in the glory of the 2020 Porsche Taycan and our mutual admiration of Porsche and this car…
RSVP to this thread - but it's not necessary.
charging in the Santa Cruz area is challenging - but possible, but you should not plan on having to charge over on this side of the hill - if this is successful we'll probably do another one around thanks giving - and I'll make it a pilgrimage to a place with CCS chargers that also has some near by food - but for now this is a nice day trip and some good twisty mountain roads to exploit the power and handling of your Taycan.
there are some EVGo chargers over here and they are pretty reliable - but I did not pick this place as an EV friendly place - I picked it because I wanted to do lunch @ surf city and would love to see other Taycan's from the Bay Area.