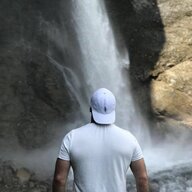 First Name

Kreshi
Joined

Feb 4, 2021
Messages
Reaction score

665
Location
Vehicles

Taycan 4s

Hi everyone,
I drove from Zurich Switzerland to North/Central Italy last weekend and thought I'd share the trip experience, this time very short and straight to the point.
It was a 600km / 370miles one way drive to Italy. I started with about 80% and charged 3 times on the way.
Why 3 times? Well I had my wife and our little poopy pants dog with me, both wouldve stopped another 15 times if it was up to them.
I charged one time at Ionity in Switzerland and then two times at Ionity in Italy. The one in Switzerland, close to the Italian border, worked fine, did not engage in plug&charge, so my Porsche card was needed. Other than that it charged well and fast.
The other two times I charged at Ionity in Italy, both times I plugged the car in and it started charging within 30 seconds, no card needed.
Each time the Ionity charger looked completely different. Out of the three times I used Ionity I saw three different charger models.
Here again very fast and error free charging.
This was my third cross country trip using Ionity only and everytime all stations I have used worked perfectly.
Ionity has built a nice network and so far has not disappointed me at all.
When Porsche, Audi, VW start adding their own internationally, we'll be in a very good place.
Btw: the powerloss issue: I think I have experienced it in my underground carpark in the very first days/weeks of having the car (it is hard to tell since I was driving at very low speeds in the carpark and I didn't know about it at that time) and since then made many long trips and drove thousands of miles, haven't had any issues at all. It might be a one off occurence?
If interested, I can update the thread after I drive the 370miles back. Maybe something happens there
.