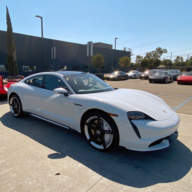 First Name

Wiley
Joined

Nov 23, 2019
Threads
Messages
Reaction score

460
Location
Vehicles

Porsche Taycan Turbo, VW ID.4 AWD Pro S, BMW i3

Our family took a brief trip to Death Valley last week, and we piled into the Taycan Turbo for the drive down and back (in the park we had rented a jeep from Farabee's--highly recommended given that some of the best sites are only accessible via unpaved roads). Note that all units are Imperial (degrees Fahrenheit, miles, etc)
This is the first trip where I've had the confidence to rely on the charge planning in the car and in the Connect app. The charge planner leaves a huge amount to be desired (topic for a different post, I suppose), but it is pretty good at doing planning for the 'next hop' on a trip--wherever you are to wherever you want to be. I also looked at ABRP, but its range estimates are so pessimistic that it's not nearly as useful.
We did each direction with three stops.
On the way down, charge stops were at Harris Ranch, Bakersfield Plaza, and Coso Junction. Charge stops were no longer than 15-20 minutes.
The return trip had stops at Coso Junction, Bakersfield Plaza, and Panoche Shell. I will note that this stop schedule was dictated by biology rather than the car needing a charge (the last stop was going to be in Gilroy...).
EA was good-- all charges were successful on the first attempt, and charge rates were all in keeping with what I'd expect given the state of charge and the battery temp at each stop. I did use the Porsche nav to set each charging station as a destination so that the battery was appropriately pre-conditioned, and it did that beautifully.
Overall, the Taycan performed a like a champ. The route is a mix of long flat sections (I-5), and mountain passes (basically you cross at least four mountain ranges each way). On those long flat sections I had cruise control set to 85 mph, with some stretches at 90 mph. Other sections of freeway (US-101, CA-58) were set at 70-80 mph depending on speed limits. Average speeds were brought down by some traffic associated with heavy trucks (I-5), construction (CA-99), and poor road conditions due to rain (CA-58, I-5, CA-152).
Efficiency was poor-ish, but very similar to my Los Angeles/Anaheim trip last month. There were four of us in the car (me, my wife, and our teenage son and daughter) and the front and rear trunks were loaded with luggage, so this was a pretty heavy car on both trips. Tire pressure was set just before departure to the door plate recommendations, given the full load. The car has 21" all-season tires on the Mission-E wheels.
Consumption was around 37 kWh/100 mi on the way down to Death Valley at an average speed of 67 mph, and 37.4 kWh/100 mi on the return at an average speed of 64 mph. While the weather was fair and cool (temperatures varied from the 60s in the Central Valley to the 30s crossing mountain passes and when we charged at Coso) on the outbound trip, the return was cool to cold and rainy, with temperatures mostly in the 30s and 40s. Battery temp on the return departure was super low, as the car had sat in low 30s overnight temperatures since I couldn't leave it plugged into a L2 charger. It looked like the car burned a fair amount of power getting temps up for our first charge at Coso Junction, where ambient temperatures were around 38-39° F.
All in all, I was very pleased with the car's performance. More efficiency might have been nice, but it was more than adequate for us to make the stops we wanted to make. The EA charge network worked flawlessly for the first time in a while. This EV roadtrip thing might work...