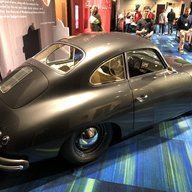 Joined

Jul 16, 2019
Messages
Reaction score

33
Location
Vehicles

7XPorsche's, 3XGolf R/ GTI
So hear me out.....

I'm extremely disappointed in the Porsche quoted range of 450km on the "Turbo" (WLTP). For an engineering based company with 70 plus years of experience, given they had Tesla model S's beside them while testing the Taycans, how can they NOT achieve 600km or better range. Let's be honest, 600km(EPA) is the EV benchmark with Tesla's latest S.

Tesla has been engineering for, say 8-10 years.

Porsche engineers did a great job with Taycan track performance....26 times accelerating up and down the runway. Record breaking 7:42 circuit!

If the Taycan is solely an EV track car, they've hit it out of the park.

If they want to enter the EV production consumer market, they've missed. Who's gonna pay for the billion dollar EV factory/ investment......all those race car track drivers? I shudder to think what a base model, 4, 4S with an 80kwH battery range would be?

Waiting for those EPA ratings to come out (supposedly they're 15-20% less than WLTP).