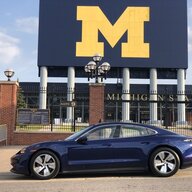 First Name

Patrick
Joined

Jan 30, 2021
Messages
Reaction score

9
Location
Vehicles

Taycan, Cayenne, 1970s era Buick

This review written excellent writer (and occasional race driver) Henry Payne features a euro-spec Cross Turismo and my US-Spec Taycan 4S, both in Gentian Blue. I had a chance to discuss the cars with Henry and his story includes impressive driving, quirks, a stop at a "reefer shop" to get some charging just to make it home, and a pretty clear-eyed assessment of the vehicle.
https://www.detroitnews.com/picture...orsche-taycan-turbo-cross-turismo/7766427002/
[There is a paywall and you may need to get a trial or be from out of state to see all of them.]
The review is below, with some excerpts here as well.
PLA
----------------------
https://www.detroitnews.com/story/b...rsches-hyperfast-cross-turismo-ev/7763803002/
"
Through Hell, Lansing, and a reefer shop in Porsche's hyper-fast Cross Turismo EV
My road to Hell (Michigan) in the wicked-fast, 2022 Porsche Taycan Turbo Cross Turismo was paved with good impressions. Though I had to recharge at a weed shop to get there. Porsche's latest electric vehicle highlights the paradox of performance EVs: state-of-the-art cyborgs dependent on an unreliable charging network to survive.
Let me tell you about a day on the electric frontier in one of the world's quickest EVs.
The 2022 Cross Turismo, if you've been living on Mars, is the much-anticipated sequel to Porsche's first EV, the Taycan performance sedan. With a hatchback, bike rack anchors and standard all-wheel drive, Cross Turismo is to Porsche's electric lineup what Panamera is to gas-powered Porsches — a family crossover (ahem, don't call it a wagon) with shocking speed.
Porsche established its electric vehicle line in 2020 — not with an electrified version of its iconic 911 super-sportscar — but a sedan, the Taycan. With its stunning looks and heavenly handling, it established Porsche as the pinnacle of EV performance.
The Cross Turismo, the brand's second EV, takes the Taycan and adds a dose of practicality. But, as I have found after owning a lightning-quick Tesla Model 3 Performance model, practicality is a relevant term in the world of EVs.
My Taycan Turbo Cross Turismo begged to be driven hard, yet the realities of the electric charging grid demanded restraint. Like Odysseus plugging his ears with beeswax, I spent the day resisting the Turbo Cross Turismo's siren call lest I be shipwrecked without charge on the side of the road.
I received the Porsche in my driveway at 9 a.m. on a June weekday with a near-full charge of 197 miles of range, and proceeded to plan my day around the EV. This drives Mrs. Payne crazy. In gas-powered cars, you simply jump in and go knowing refueling infrastructure is everywhere. In an EV — even one as sophisticated as Cross Turismo — you have to plan your trip around its range.
Any divergence can throw off your day. My plan: Drive 80 miles to Lansing for a photo shoot with my speed-addled, Taycan-owning, industry-expert pal Patrick. Then 50 miles south to Hell for playtime on Michigan's mightiest twisties. Then 50 miles home to Bloomfield Hills. Total mileage: 180, with cushion for range anxiety.
To maximize range I selected RANGE mode (similar to ECO mode in other vehicles) predicting 205 miles of range. SPORT MODE (
Boowahaha!
) would have to wait.
...
...
...
EVs are for the niche buyers willing to accept their inferior refueling habits. For Porsche buyers with disposable income (and another 2 grand to install a 240-volt charger at their home/Up North cottage/Florida condo), the Cross Turismo is a new EV toy for their stable.
Porsche — there is no substitute.