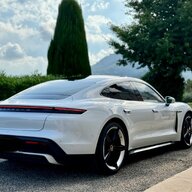 First Name

Peter
Joined

Nov 3, 2019
Threads
Messages
Reaction score

1,349
Location
Vehicles

Taycan T, Tesla M3P, Aston Martin DB9, Porsche 996 C4 Cab

No ferries, as part of my dream is to drive all the way. I appreciate all your suggestions. However my route is pretty much set in stone from Tarifa to Nordkapp. I will have to improvise as we approach the date to adapt to ultra-fast charger availability, and we will be checking said availability when on route. I have tens of charging apps downloaded and configured. However my priority is to use the Ionity network with the Porsche Charging card throughout. I will also probably be using Iberdrola, Juice Pass (Endesa), Zunder (Easycharger), and Wenea while in Spain. In France, Fastned, and in Germany and Denmark, only Ionity should be enough. In Sweden and Finland, Fortum & Charge or Smoov, and InCharge in Norway. I have Chargemap as a fallback as well as credit/debit cards. Hopefully, I am well prepared for the charging aspect. As I am almost certain, at some point a charger will fail, we have alternate chargers of at least 50kw nearby everywhere. This would obviously delay a segment, but should still be manageable on our tight schedule.
That looks like an amazing plan. I will enjoy reading your experience of that trip
I have driven part of your route, from about Nimes in France up to Gävle in Sweden. There are two further Ionity stations in Hudiksvall and Sundsvall. But then going North from there you will have lower power stations. I have seen that Tesla have opened a number of stations in Norway, but not sure which ones.
And I can recommend using Ionity charging stations all the way on that route. The stations in France are well positioned as well as Germany, Denmark and Sweden. They have all worked out very well. In Germany the EnBW network also has been great. Along the German Autobahn, a lot of charging stations are indicated on the road signs. So plenty of choice.
If you use the Charging Planner, watch out for the frequent map updates, that will replan your route and may chose slower charging stations with lower power as well as being a bit off the track? That issue has puzzled me several times. Keep checking that the Ionity Chargers are chosen.
For this area I can strongly recommend ChargeFinder app to locate charging stations. The information seems very up to date about availability and also yo see how much SOC the cars that are charging have got. So you can estimate how long you need to wait if they are occupied.
https://chargefinder.com/en
.
I would like to hear your experience with the Pirelli tyres on the roads from Malmö to at least Stockholm. The noise level in my car with 21 inch mission E and Good Year Eagle F1 was unbelievable noisy. I wish the car had had active noise cancelling in the radio.
And you should be very unlucky to find any snow on the roads mid June.
Good Luck!