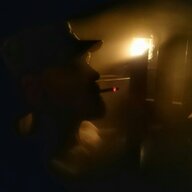 First Name

H
Joined

Mar 31, 2020
Messages
Reaction score

168
Location
Vehicles

Porsche Taycan 4S, BMW 530XD, BMW 320I conv

Just thought I'd drop a few lines on last weekend's experiences over here in the winter mountains of Norway.
Got up to my cabin Friday evening, going from +5 Celsius at sea level to minus 10 C at 1000 meters altitude. Arrived with about 28% of charge left after roughly 290 km of mixed winter driving (started out with about 98% charge). Put the car on the emergency trickle charger (220V / 10A), and mostly left the car on the charger for the weekend.
Started my return on Tuesday around 11am with 68% charge. Yes, that's all I got after 3 days on the 220V trickle charge, but wasn't worried, car said it would get me home with around 8% to spare. Temperature varying between minus 5 to 10 coming down from the mountain. Preheated the car on charger before taking off.
Now's when things got interesting. This time of winter, we sometimes experience a "dry" winter over here. That means we have plenty of snow and ice, but it's not wet - it just blows around. So what sometimes happen is that when passing and overtaking cars (it's been know to happen in a Taycan) - you get more and more dirt & grime buildup on the windscreen. No problem, just press the window washer stalk, right? Wrong.... Those hoses are frozen solid after 3 days in subzero temperatures, even after preheating a couple of times. So all you get is a nice squeeeeeking as dry rubber judders across a dirty windscreen. At one point I was seriously considering pulling over and clean the thing with snow. Luckily after 2 hours I was back down to sea level and 5 "warm" degrees, and things started thawing a bit.
Also, when doing long stretches of driving, I like to use the sport chrono mode "knob" to switch from, say "Range" to "Sport+" before overtaking slower cars. Another cold weather surprise reared it's head then; the knob was totally unresponsive - nothing happened when turning it, zip - zilch - nada. Mode change through the PCM screen still works of course, but not the "mechanical" switch. Oh well, no problem - but it wasn't really _that_ cold yet, - proper winter is not due until January really....
Another thing that kept nagging at the back of my mind while staying up at the cabin was the fact that I'd forgotten the start booster I'd just bought after experiencing the funny 12V battery dead car drain a couple of weeks back. Would NOT be funny to have that happen way up at the cabin. Closest Porsche Assistance (which just redirects to the local resident tow truck over here) would probably be hours away on a Sunday, if not days actually. Needless to say, I didn't use the app to check on the car all weekend.
So, all in all an interesting experience. Car is still the best car to _drive_ that I've ever had. Just a tad bit worrisome that for 1.2 million Norwegian Krone (about $137.000) don't expect to get working window vipers and sport chrono package in subzero temperatures (or maybe it was the altitude
.
On the upside; I didn't experience the dreaded inside "window-fog" buildup, but then I was alone in the car (which really is to be preferred anyway - if you can make it).