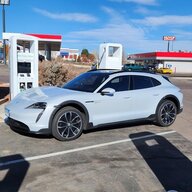 Joined

Jun 17, 2020
Messages
Reaction score

384
Location
Vehicles

2020 Taycan 4s, 2019 e-hybrid Cayenne

Last you week you may recall I shared efficiency stats on driving through the high mountains of Colorado, but after driving over Vail Pall and through the Eisenhower tunnel the drive was all down hill for 60 miles. Yesterday, I decided to drive from Denver to Salt Lake City and get a better understanding of how the efficiency is impacted by going mainly up hill for the first 160 miles of the drive. The first part of the drive yesterday covered the 160 miles from Denver to the Electrify America charger in Glenwood Springs, CO. The first 100 miles are marked by two high mountain passes - Eisenhower tunnel at 11,000ft and Vail Pass at 10,600ft. I will share a few pictures that show the start of the drive, the battery state at the top of Eisenhower tunnel, the affect of regen/recoup after coming down from Eisenhower tunnel, the state of battery at the base of Vail pass, the state of battery at the top of Vail Pass, the state of the battery at the bottom of Vail Pass showing the affect of regen/recoup, and then finally the over all efficiency and battery state when I arrived at Glenwood Springs after 160 miles. I realize that few of you live in high mountains, but I am impressed with my 4s' efficiency. I have 20's on the car, and the weather was between 50 degrees and 75 degrees during the drive.
Start of the drive:
What the GPS showed for expected efficiency of the drive from Denver to Glenwood Springs:
Efficiency stats to the top of Eisenhower tunnel - high consumption due to 60 miles of up hill driving:
affects showing the impact of 10 miles of down hill coming down from the tunnel - notice the recoup/regen affects on overall numbers:
This pictures shows efficiency stats at the bottom of Vail pass:
Here is the impact to the climb up to the top of Vail pass - going east to west is short and steep so impact was not to major:
Here is the impact of regen/recoup on the 10 mile decent down from Vail pass into Vail:
And, finally, the over all efficient results when I arrived into Glenwood Springs, CO:
There was a lot of traffic and and construction, so it kept my overall speed down, which helped with the efficiency. Overall, I am impressed with how the car handles in the high mountains, and the overall battery efficiency for driving long distance. I made two 20 minutes charging stops at Electrify America locations yesterday and was able to cover the 550 miles from Denver to Salt Lake City.
I realize many of you do not live in high mountains like we have in Colorado, but I wanted to share efficiency stats for you that live in more mountainous locations. Don't be afraid to take the car out and lay down some miles because the vehicle is very efficient.