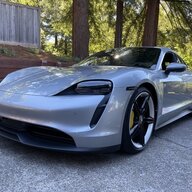 First Name

Mike
Joined

Jan 29, 2021
Messages
Reaction score

232
Location
Vehicles

2021 Taycan 4S, 2019 e-Tron,

I recently received my copy of Car and Driver and was intrigued by the comparison test of three ICE super sedans from Audi (RS7 Sportback), BMW (M8 Competition Gran Coupe), and Mercedes (AMG GT63S).

I thought to compare the results with the recent C&D test of the Taycan 4S and the numbers were interesting. All three ICE cars had an acceleration advantage over the Taycan from a standing start although the 4S was quicker than the Audi in C&D's 5-60mph test and within a tenth or 2 to the Merc and BMW. In the top gear 30-50mph and 50-70mph acceleration tests the 4S was significantly quicker than all three.

The acceleration numbers were more or less as I expected but what surprised me were the braking and skid pad results shown below. (All vehicles equipped with ceramic brakes)

Braking from 70MPH Braking from 100MPH 300 ft. skidpad

Taycan 4S 147 ft 289 ft 1.06 g

Audi RS7 154 ft 304 ft 0.98 g

BMW M8 147 ft 291 ft 1.02 g

AMG GT63S 157 ft 299 ft 1.05 g

It should also be mentioned that the base price difference between the 4S and the others ranges from about $30K for the Audi to $100K for the Mercedes, although to be fair the standard equipment level is not as high in the Taycan.

It's a little like comparing red apples and green apples but I still think it's impressive that Porsche is able to build a much heavier EV that corners and brakes as well or better than some prestigious ICE equipped competitors. It almost makes the Taycan seem a bargain by comparison.