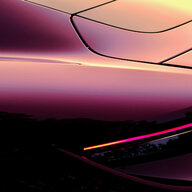 First Name

Robert
Joined

Jun 24, 2021
Threads
Messages
Reaction score

439
Location
Vehicles

2021 Taycan S Cherry Red

I've posted this recently in the Cherry Metallic Red corner, but thought for fun I'd re-post some of my recent Winter experiences in the General forum.
We've been hit with an extreme (and frankly dangerous) Arctic storm here in Western Canada, and I have purposefully taken out the Taycan to see how it performs in this awful weather.
Also, my old MB 350 SUV won't start. LOL. So the Taycan automatically wins by default.
Here's the recent weather forecast:
And here's what the roads looked like last night (04 Jan 2022):
This was my morning drive today (05 Jan 2022):
Taycan computer says - 29C (that's -344 degrees in F or something):
My valiant steed:
The car even with stock All Season tires is amazing even in this extreme cold. The weight + low centre of gravity makes it immune to even these awful conditions.
But there is a price: I have calculated a ~40% decrease in range. Even when charged to 85%, I didn't get anywhere near 250km of range. Interesting.
At -30 C the entire electrical system is under duress. I can subjectively "feel" the car complaining. The regen system is making odd noises, the front fascia motorized vents are groaning, the internal battery system (high voltage) is making odd sounds. And range is max at ~ 250-260km (about 162 miles), even with 85% charge and conditioning. Hmm.
If I turn ON all the heating stuff (seats, warm air circ., heated steering wheel etc.) I can watch the range drop by the second. Literally.
So I've put the car into RANGE mode and ECO for the HVAC. It helps. But range is drastically reduced.
But Stuttgart said they drove this in Sweden under the same conditions, so I'm holding them to their word that this car is 100% capable under any extreme climactic conditions.
And man, it is STILL so much fun to drive...
And believe it or not, even at - 30 C, I still get thumbs ups and friendly honking from passers by! Great to see people interested in electric technology. Even if they're on the planet Hoth like I am! LOL