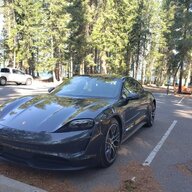 First Name

Frank
Joined

Sep 6, 2019
Messages
Reaction score

397
Location
Vehicles

Taycan 4S -in transport-

As someone that owns a Porsche and has spent a few months driving EVs, I think it's important we talk about the reality of the Taycan when it comes to range & charging. The marketing simply doesn't match the reality of the technology, and dealers will, frankly, BS you with talk about the subject. For anyone with more experience in EVs, please jump in and let's get an accurate expectation for the ownership experience of a Taycan.

Here's what we know factually;
-If you are ONLY using the Taycan for city driving and no trips longer than 100 miles, you will have absolutely no problems. Period. Every EV on the market is absolutely beyond capable in this situation.
-The MAX range on the Taycan 94kwh battery is 290 miles. This is using Eco mode, driving no faster than 70 MPH, with air conditioning/heat off. We know this from Porsche's press release, regarding a trip from Niagra Falls to New York City.
-The nominal range of a Taycan in Normal drive mode at 95% charge is approx. 217 miles according to the on board computer.
-A 71% charge takes 24 minutes in an ideal situation. So about 20 seconds for 1% of charge in ideal conditions. Ideal conditions = fully functioning charger at max output, between 10%-85% battery charge, moderate temperatures (60-80 degrees).

What this means;
-The range numbers and technology are very similar to an iPace or eTron. The iPace & eTron can, technically, make a 280 mile trip in ideal circumstances and typically shows around 210 miles in Normal mode on a mostly full charge. They also have severe battery inefficiencies that hopefully will not be as severe in the Taycan but will be present, due to the technology used.
-Charging in an ideal situation is relatively good but not amazing.

Things to anticipate;
-Expect to lose 10% immediately if you turn on air conditioning, heat, or ventilated seats. Heated seats & steering wheel should have a less dramatic effect.
-Expect to lose 15-30% by turning on Sport mode; 25-50% by turning on Sport Plus
-Expect a significant acceleration event to lose between 0.2% and 5% of the battery charge immediately.
-Expect consumption at speeds above 60 MPH to increase exponentially. While the 2-speed transmission is touted as being more efficient at highway speeds, being slightly more efficient at a very inefficient activity is still inefficient.
-Expect range that includes significant altitude gain to be as much as halved; range with significant altitude loss can be as much as doubled.
-Expect every stop at an Electrify America charger to take an additional 10-40 minutes over expected charge time. EA chargers are notoriously horrible, with issues even getting a charge started. Also realize using an EA charger is generally equal the cost of gas. If you have a route that you'd routinely use the Taycan for, do an advanced trip and stop at the chargers you'd use.

Comparing the Taycan to the iPace or eTron should end up being similar range numbers and charging similar to the eTron but much better than the Jag.

Real world this means;
-If driving like a Porsche outside of the city, real range is 100-180 miles. You will never hit 200 miles of range on spirited driving outside of a city. Period. End of story.
-If you're taking advantage of the continuous 0-60 runs expect to get sub 100 miles of range.
-Always plan a route for longer trips, look up reviews on the chargers, and expect to get a lower charge rate and a delay upon arrival.

If this works for you, I'd expect the Taycan to be a better version of the Panamera and the best EV on the market (price not taken into consideration). But be aware that first production EVs almost always have significant issues and recalls and Porsche is introducing technology that has not seen real world use. The transmission could end up being a significant problem.

If you can wait, I'd highly recommend giving Porsche a year or two to work out the kinks. They've already said models within the next year or two will have superior technology; so if you buy now you're getting inferior technology to act as a guinea pig. Now, again, if you're only using it for city driving I don't see why you would need to wait. Even if you run into issues you're likely in the city with your Porsche dealer and get a pretty loaner while they work on any problems. The upgraded tech isn't really relevant for pure city life.

I'd love to hear any more input on this. While much of this is speculation, it's based on the facts of the technology Porsche has used and all of the official information we have received. Dealers & Porsche will always upsell the range & charging but what they claim is no where near the reality. This goes for ALL EVs currently sold. Go to Jag or Audi or Tesla and they will claim EPA (or above) ratings are accurate which is simply 100% false.