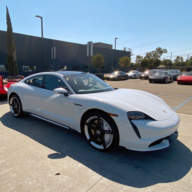 First Name

Wiley
Joined

Nov 23, 2019
Threads
Messages
Reaction score

460
Location
Vehicles

Porsche Taycan Turbo, VW ID.4 AWD Pro S, BMW i3

I drove my Taycan back home to the Bay Area today from Los Angeles (I took delivery last week at PEC LA and had protective film installed on the car right after).
First, to report on my Electrify America experience: in the past three days that I was in LA and then driving back, I used Electrify America chargers 4 times.
Santa Monica: Success
Burbank: Success
Camarillo: Success
Pismo Beach: Success
I would love to say that it's my charmed life, but everything seemed to be working today, and I heeded advice from other forum members and didn't bother even launching the Charging NA app--I initiated all of the sessions from the Connect app.
We left West LA for a stop at Blinkie's Donuts in Woodland Hills. Just a mile off 101, and some damned fine donuts. Then back to 101.
My first charge today in Camarillo was to 93%, which was really out of conservatism: I probably could have made Pismo with far less, but I was planning on doing some spirited driving, leaving US 101 in Ventura and heading up CA 33, which is one of California's great drives. CA 33 did not disappoint, and I strongly recommend the drive to anyone who can get there. The stretch between Ojai and the intersection with CA 166 is absolutely a fantastic drive, with twisty switchbacks, tunnels, breathtaking views, and just enough long straights to really stretch the car's legs.
We got back on US 101 in Santa Maria, and made it to Pismo with tons of charge to spare.
I ended up putting more of a charge into the car in Pismo Beach than I originally planned because my son wanted to buy some shoes at the Nike Outlet store (it's right next to the EA chargers there) and the shopping detour delayed our departure from the charger. Anyway, I left Pismo with a 98% charge, intending to stop again in either Salinas or Gilroy. But after a while on the road, the Taycan nav system informed me that I could get home with a 7% charge without stopping if I activated Range Mode and limited top speed to 80 mph. The reality of occasional traffic, lane closures, etc. is that I wasn't really going faster than 75 very often, so that sounded fine to me. Bottom line: made it from Pismo Beach to my home in San Mateo (229.1 miles) with over 25 miles of range to spare, at an average speed of 68 mph.
The bottom line: the Taycan is an awesome road trip car. It's awesome to drive on a great road, and comfortable and quiet when you're droning on long stretches of highway. Range? EPA, shmEPA. I got more than adequate AC and seriously loud stereo with over 240 miles of range at nearly 70 mph. That will do.
The total trip tally:
Last edited: