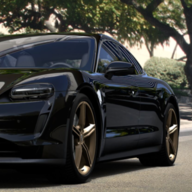 First Name

Dustin
Joined

Nov 17, 2019
Messages
Reaction score

75
Location
Vehicles

'20 Taycan 4S (July '20), '66 Porsche 912, '11 987 Spyder

After owning my Taycan for about a month now, I was looking forward to my first long range road trip down the Oregon coast. As a new EV owner some of the concepts on charging stations, kWh, etc. are new to me. I know the bigger the number the better (e.g. a 50kw station is slower than a 150kw), but really hadn't given much thought to the actual wait times. I never looked at my range in anything other than miles. Miles per kWh wasn't anything I had even looked at previously.

Night before the trip
To try and 'prepare' I used the Plugshare app and located an EVGo station a few miles from my house. I figured it would be smart to try a public charging station at least once before we headed out. Right off the bat, I found the process a bit of a pain. First, getting the car close enough to the 'pump' was hard. Between needing to raise the car heigh, creep close and the fact that the charger cables don't pull that far away from the unit meant several attempts before I was close enough to get the cable to reach.
I plugged in the CSS charger and the screen said to use my RFID card, which I didn't have. There also was no card reader to swipe my card. I have the EVGo app on my phone but I didn't see any way to pay. After a call to the 800 number, they showed me how to locate what charger I was at (and how each pump has a name) so I could pay through the app. I just let it charge for a minute or two. Mission accomplished.

Day of trip
I topped the battery of the night before with a range of about 250 miles. I was stopping by Portland first to visit a friend. The thought was to charge it while we were grabbing lunch. This station was run by a different company (PGE), not EVGo and again I ran into issues. First the fast charger cable wouldn't reach my car without me parking in the wrong spot in order for the cable could reach the right side of my car. A snarky guy charging his EV commented I was in the wrong spot. Whatever. Again I didn't have the app or an RFID card. This station had a credit card reader, but the credit card wouldn't work. Fortunately another EV owner saw me struggling and paid for my charge with his RFID card. How many RFID cards do I need to carry?

Near Eugene we needed to charge up for a long drive to Port Orford and there was a 150kw charger run by Electrify America. I used the Charging America app, which ensures my Taycan charge was paid for and it worked like a champ. Finally a good experience. Same issue with parking close though and trying to get close to the pump without hitting something.

That night we arrived at our cabin and there was a free charger there. It was after 10PM when we arrived and pitch black. I couldn't find the charger to charge that evening, so got up early the next morning to charge it. That was a big mistake! The charger was only 7kw and after 3 hours of sitting around that morning we'd only gotten about 50 miles of range. This is when I realized I had a real problem. The entire northern route of the Oregon Coast doesn't have a charger over 7kw until you get to Otis, which was 180 miles away. To be safe, I'd need at least 210 miles to make that trek but with how slow my car was charging, I would need to wait around another 5 hours just to reach that destination. I was totally stressed. It is an 8 hour drive back home even without stopping for charging. My only choice was to head inland to Roseburg where there is a fast charger and drive home north on I-5, not exactly scenic.

Without boring you with even more details the trip home was painful to say the least. Between some stations not working, others in terrible parking lot locations and me needing to constantly be doing math to ensure I could make it to the next charge station I finally made it home. Even the 50kw chargers took what seemed like forever to get enough range to make it home. It was like watching paint dry half the time.

Final Thoughts
Personally for me, I won't do another long range trip in the Taycan until there is more 150kw infrastructure in place. The waiting around and having range anxiety took a lot of pleasure out of it for me. Additionally, the inconsistency between all the apps, RFID cards, tight parking spots, etc. was irritating. It would be like every gas station requiring different methods of payment and incompatible gas pump handles. The Taycan is amazing to drive and staying around my home is no issue at all, but long range trips are too much trouble personally.

I don't think range is really the issue with EVs. On the highway I was getting 3.0 miles / kWh. If you consider the car holds 93.4 kWh, that would be 280 miles. Even if I had 500 miles of range the real issue is having to carefully plot out exact stops and the lack of 150kw or 350kw stations, means a lot of sitting around waiting.

My other observation is that a bunch of these EV stations are 7.2kw, what are the point of those? They seem totally useless adding only about 15-20 miles of range for every hour of charge. That's about the equivalent of taking an hour to put a gallon of gas in your car.

I did learn a lot more about how to 'think' about range and distance by taking this trip though, so I did find that very useful. Here's to more fast charging infrastructure in the future.