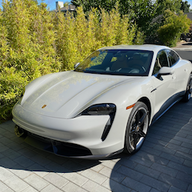 First Name

Andy
Joined

Aug 1, 2021
Messages
Reaction score

25
Location
Vehicles

Chalk Taycan Turbo S

New owner of a Taycan Turbo S here and I wanted to share a few tips that I noticed while playing around. Maybe these are well known but it took me a while to figure some of these out.
On the control panel, you can pull down on the tab in the middle, which exposes shortcuts at the top. These are really handy since the PCM menus are convoluted. Also really handy to be able to jump right into CarPlay (rightmost button).
The home button can be pressed a second time to show a multi-window (se picture below). By selecting the three dots on the lower right corner the specific things in the windows can be changed. I like to put the Burmester settings and ambient lights here because I use CarPlay for navigation and music.
The Taycan (and maybe other Porsches) comes with a tire inflator! It's in the hood compartment on the right hand side under a pop out panel. It plugs into the cigarette lighter and has a pressure gauge. I used it to level up the pressure on my Tesla Model S
When reversing the right hand side mirror was pointing way up. I turned off the feature that changed the mirrors when reversing, but then I realized you can just adjust the mirror position when reversing and it will remember that next time.
Coasting is a really good idea. In my Tesla Model S, braking regen is pretty aggressive even in its least aggressive mode. I find that I end up adjusting the accelerator constantly to maintain good distance and speed. In the Taycan I can just take my foot off the accelerator and maintain speed for a long time. Regen and adjusting constantly is inherently less efficient than coasting for a long time. Superficially optimizing for regen is the wrong idea for humans with imperfect feedback control.
When I first received my Taycan there was a flaw that caused poor acceleration and the only noticeable problem in the dash was the Precool/Preheat showed a System Error. It turns out it was a bad solenoid; if precool/preheat shows and error and you think "so what, I don't use that anyway"... don't ignore it.
Anybody else have favorite secret tips?