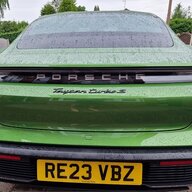 First Name

Stuart
Joined

May 9, 2022
Threads
Messages
Reaction score

91
Location
Vehicles

Tesla Model 3 Performance; TS on order

Afternoon chaps
Probably less interesting for those who already have a Taycan but for those with cars on order (including me) this might be interesting.
First things first, some context. I currently drive a M3P having also had an i-Pace and before that, an M5. I've had some issues with the Tesla, mainly around driver involvement (or lack of), interior design (seats are poor for a performance car, generally bland), and handling (feels "floaty" at speed).
So Sheffield Porsche (Elise) was kind enough to arrange a 24 hour test drive for me and I picked it up on Saturday. I'd had a brief, 30 mins or so, test drive which wasn't enough to feel any connection with the car and I was left initially feeling a bit disappointed although I was sat in traffic for quite some time.
I was concerned that another EV wouldn't address my primary concern I had which was the absence of driver involvement. I'm pleased to say that this is 100% not the case now, my thoughts are:
1. The electric sound (love it or hate it) really adds to the involvement. I love the noise on a launch, love the way it burbles outside, its just great.
2. Launching the car is so much better than in the Tesla. They are roughly the same up to 80mph in terms of speed but the way each car does it is very different. In particular, the change of gear from 1st to 2nd feels so much more mechanical and involving than merely stamping your foot down and watching the speed increase. Combined with the sound and it felt so much more satisfying.
3. The handling is very confidence inspiring. I've read the M3P handles well, mine doesn't inspire me with any confidence, it seems to skip around corners, the traction/stability control kicks in for reasons I can't fathom, and at speed it just feels dangerous unless its a perfectly straight road, it's just not enjoyable. Contrast that with the Porsche which left me looking for corners to go round at speed (safely and within the speed limit of course...coughs) because it just handled so well. Really enjoyed this aspect, it brought fun back to driving which I'd otherwise lost.
4. Re-learning how to brake was fun. For those who have got used to one-pedal driving, you change how and when you apply the brake pedal, if indeed you need to. I didn't realise just how much this simple activity connected me with with the car. I'm now very much on the side of the way Porsche have done it over how Tesla and most other manufacturers have implemented regen.
5. The interior and seats in particular are in a different league to the Tesla. It so much more of an interesting place to be sat. The quality is excellent from the buttons for the windows to the door handles, its just great and makes you feel you are in something special.
I also had an opportunity to experience the 360 degree camera and the HUD. I must say the rear view camera is totally unusable. It's like you've been to a festival and spent too much time taking illegal substances. The 360 degree part was ok, but the camera needs sorting out. The HUD however which I'd written off as I something I doubt I'd need, I actually enjoyed. I had one on my M5 and liked that but I'd assumed given I no longer need to see a rev counter than it would have less use. In fact, seeing the satNav was a bonus (shame it doesn't work for Android Auto) and its surprising the time difference to check your speed between the HUD and the dashboard as with the latter my eyes at least, needed time to refocus.
One final thing, as I regretfully got back in to the Tesla, I couldn't help feeling I'd just been in a proper car and I was now in what I can best describe as a toy. I'm now eagerly awaiting delivery some time I hope in 2023.
I've attached a few pictures of the car as its just such a lovely thing to look at.