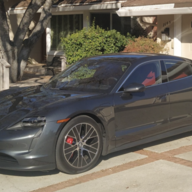 First Name

Ron
Joined

Dec 30, 2019
Messages
Reaction score

249
Location
Vehicles

Bolt EV, Taycan 4S (Sched August)

ron_b, I haven't heard any feedback from anyone who has driven a 4S, which is what I recall you are ordering. Did you ask whether your dealer has driven both and whether he had any observations on how the two compare?

I showed my wife your and BayAreaKen's test drive reviews and she thinks I am going to get in trouble... I hope she is right and that the 4S is nearly as exciting to drive as the Turbo sounds like it was for you.
Sorry I didn't ask. I was looking on-line at a dozen Porsche dealerships in the Bay Area and Los Angeles and Palm Springs. I only saw Turbo and Turbo S models. And several reviews also said 4S would not be available until Q2. I have no personal fears of the 420hp vs 500hp in overboost or 360 vs 460 normal being too doggie. It would no doubt be noticable to justify the ~$40k price difference (plus there are included options too like better breaks and wheels etc). My issue is that I still would want at least $20k more options even with turbo and that's just more than where I want to be.
I'll have to live with a 155mph top speed and 3.8 sec 0-60.