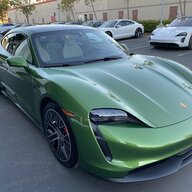 First Name

Michael
Joined

Apr 9, 2021
Messages
Reaction score

54
Location
Vehicles

2020 Mamba Green Taycan 4S

First I will confess I am not a believer in organized religion. Please no flames, thank god we are
all different (Puns intended). I intend this as humor.

In my life I have always found it funny that "real car people" often become religious about their
particular cars and brands. I love cars, but have never been "brand fanatic", when I
want a car, I search for what I consider "the best" for my use cases, current
desires, $ and what is available.

What bugs me is when I make a statement like, "I wish the Heisenberg compensator on my
new LightSpeed 1000 was more intuitive". In steps a "real car guy" (sorry ladies, just using
this for affect, the church of Porsche is just getting around to admitting women) and
says, "You are just a whiner and must not be a real car guy because
you don't BELIEVE they make the best one on the market...". Like religions they stop
comparing facts, instead they rely on beliefs, most of which are NOT based on
facts... Marketing apostles love this...

Love my 4S, but it isn't perfect... BTW how many of you "real car guys" out there know that
Porsche does NOT manufacture the motors for our cars? Honestly I am 100% fine with that.
They probably write the spec, do some tests, take input from electric motor specialists
from inside VW and external companies and thus the motors are semi-custom. They
like all car "manufacturers" are really system integrators. Porsche probably actually
manufactures 10% (by cost) of the Taycan. They assemble parts, software etc from
hundreds of sub-contractors.

I took my Taycan to "Church" last Sunday (A Porsche ONLY car show). So many people
hovered and asked questions. I could see in about 70% of the "car guys" they actually
lusted after the Taycan performance, looks etc. But were held back because they
believed in the old testament, book of ICE, so stayed true to their old religious beliefs...