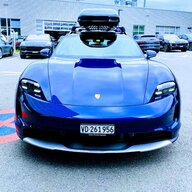 First Name

Bob
Joined

May 3, 2021
Messages
Reaction score

317
Location
Vehicles

Taycan Cross Turismo

Six Months in A 2021 Porsche Taycan 4S

There is no question that the Taycan is a superb achievement after six years in development. In my eyes, and in those of friends who have seen it, it is a magnificent vehicle (I keep a towel on board to wipe off the drool when folks look at it for the first time!). It's styling is unquestionably Porsche, yet completely unique from every other model from Stuttgart (Zuffenhausen).

For those thinking about a purchase and for the Porsche Taycan team, I have some comments you may find helpful.

1. Color - The reason Taycan ads show it in white is because it highlights the black trim design and aerodynamic elements so well. Get white! It is stunning!

2. Performance - What all the YouTube reviewers say is true. The 4S really scoots, accelerating like a 992 GT3 effortlessly. Cornering gives one great confidence for a vehicle 2,000 lbs heavier than my last sports car, a 2007 C2S. Most of the time in city driving, I leave the car behind me far behind in a couple seconds when the light turns green. It's always brings a smile.

3. Stability - When traveling at 50+ mph and taking curved ramps on highways with bumps (drainage slots), the weight and strong sophisticated Porsche suspension keep it planted better than my 911 could. The 911 would shift a bit to the outside on hitting a bump, but not the Taycan.

4. Brakes - My car came pre-optioned and included PSBC (Porsche Surface Coated Brakes). They feature a ceramic coating on cast iron discs that don't rust, don't make lots of brake dust, and are really shiny. Tested by yours truly in traffic, they stop the 2.5 tons in a blink, especially when you are distracted, looking down at the PCM screen, and the car in front has suddenly stopped!

5. Wipers – Nothing unusual here. There are settings for slow, fast, and intermittent with rain sensing.

6. Recouperation – This refers to power regeneration that can be selected by a button on the steering wheel left side. Default is "Off", a Porsche design choice. This means, when you release the accelerator, the car just coasts. If you select "recuperation" with this button, releasing the accelerator results in a slowing down as the electric motors regenerate power to charge the battery derived from the energy (momentum) of rolling down the road. In city driving, this gives one more control, is more similar to an ICE vehicle, AND uses less of the expensive brake pads. There is an "automatic recouperation" setting that does not make much sense to me.

7. Two Speed Transmission – Driving in the city, I have experienced the downshift into first gear only once, in SPORT mode, hitting the accelerator hard. There is so much power/torque that this downshift is rarely needed for every day driving.

8. Range Guess-odometer – My trips are a mix of 35-40 mph streets with 60-70mph highways. Most trips are 20-30 minutes. In my experience, the actual range is approximately 20% less than the range indicated on the center instrument display in this kind of driving, when the driving mode is NORMAL using the A/C on pretty warm days in Charleston, SC. More on range at the end of the article.

9. Suspension Lift – This is a very low clearance vehicle. You will run into road variations that could cause spoiler scraping, either dips or speed bumps. The Taycan can lift itself 0.8" in a couple seconds. But the coolest feature is that the vehicle can save the location and automatically lift the car at that location at every encounter in the future. This is a reliable and great feature!

10. Suspension – True to Porsche tradition, the Taycan is part of the family. The weight plus appropriately selectable stiffness allows you to have comfort on a rough road or stiffness and go-cart handling on a good road.

11. Interior Design – My car is appointed with Bordeaux red and black leather which is used generously throughout the cabin. The leather covers provide a steady resting place for your hand when adjusting windows, operating the audio or navigation or settings. It is stunning in a white car. Having dual cup holders in the center console is nice and catches Porsche up with the rest of the auto industry. Improvement is needed in the center console storage bin under the elbow rest. The cover when lifted does not have a gas-filled support arm so it falls down and make one handed operation difficult. There is a lovely cell phone wireless charger inside, but it is extremely awkward to actually place a phone in it due to its position while one is seated. This particular 4S came with 14-way adjustable seats with memory. I find them extremely comfortable. Have not done any multi-hour long trips yet, but I think they will be very pleasing to my hind quarters.

12. Heating & Cooling – The cabin climate control is fantastic. I was very worried that the glass roof would let a punishing amount of the sun's infrared rays in from our southern US location (Charleston, SC). And, yes, the roof is burning hot to the touch on a 90F plus day, but the cabin is remarkably cool and comfortable in a short time. A very technical article in Jalopnik (

https://jalopnik.com/an-extremely-detailed-look-at-the-porsche-taycans-engin-1837802533)discusses

some of the heating and cooling systems that integrate motor, inverter, battery temperature regulation with that of the cabin. I have not had the car in very cold weather yet, so can't comment there.

I have to mention a very nice feature for preheating and precooling. At home, you can start the climate control system from the Porsche phone ap up to an hour before you get in. In the car, you can set a timer to cool or heat at a pre-determined time once or daily or any schedule. This is a truly luxurious feature.

13. Frunk and Trunk – It's amazing that there is any room under the hood for a frunk. In front of the dash are a couple of chargers (AC & DC), a pulse inverter, and an electric motor. To open the frunk lid, you select it from the console screen, press the button on the key, or move your hand near the hood emblem. You can then put your carry on bag or groceries in.

To open the trunk, select it form the console screen, press the button on your key, press the button above the rear bumper, or wave your foot under the bumper. There is also a most annoying repeating warning beep as the trunk opens. It really got on my nerves, so I unplugged it. It's right under the trunk lid cover-easy to get to.

14. Porsche Inno-Drive and ACC – This seems to be a system for keeping the car at a constant speed, keeping it within a lane, and slowing or accelerating to keep a constant distance from the vehicle in front of you. The speed regulation is very smooth and effective. Just beware that when it detects a slower speed limit than you have been traveling in, it hits the brakes to slow to the new speed limit very quickly, if you have selected this in settings. It's always a bit of a surprise. So far, I have not been super impressed with the automated system's ability to keep you centered in a lane. There is a tendency to track from one side of the lane to the other. But I will test it some more in the future.

15. Sound System (Bose) – This car is the quietest running car I have ever owned. This allows you to hear the sound system much more clearly. I find the Bose sound system to be very nice, clear high notes and deep base, but like most Bose products, it may be a little weak on mid-range. Listened to a Burmester system in a Taycan Turbo in the showroom last week. It did sound fuller with more punch, but it wasn't $7,000 fuller!

For "safety reasons", before the last update, the stereo was silenced when putting the car in reverse and the rear camera view displays….most of the time. And when you moved forward again, the audio program did not resume. You had to go through the menus to restart it, no matter if it's a radio station, carplay audio, or a Sirius XM satellite station. Another way is to say "Hey Porsche", wait for the nice Porsche girl to answer, "how may I help you?", and command her to play XYZ radio station or other choice. She (the on-board computer) usually gets it right. After the recent two day update, this appears to be fixed.

16. Navigation – The Nav screen displays on the center dash screen as you would expect. You can also set the driver's display to show it, as well, keeping your eye from straying too far from the road. This is awesome. On top of that the display is really clear and easy to read. Destination input is via voice, search bar with a keyboard, or hand drawn letters on the console. The latter is slow and inefficient, but kind of entertaining. It is by far much superior to the one that came with my 2007 997 Carrera S. A range minder is part of the system and helps you plan your route according to locations of charging stations. I have not tried this yet, but other folks (car review magazines, esp) say it may be better to locate the charging stations yourself.

17. Range – So far I have keep data on power used in NORMAL mode with either regeneration switched on or left off. I have driven in the city and on the highways, not trying to preserve the battery, but enjoying the ride. It is interesting to note the difference in range when using the regeneration selection versus having it off. The below were done starting at 85% State of Charge. For each column, I drove the car on one setting or the other for the entire run. The State of Charge ended at 12% with Regeneration ON and 21% for the run with Regeneration OFF.

| | | |
| --- | --- | --- |
| ​ | Regeneration ON​ | Regeneration OFF​ |
| Odometer Miles Traveled​ | 149​ | 157​ |
| % of battery used​ | 73%​ | 64%​ |
| Starting Range Indicated​ | 256​ | 259​ |
| Ending Range Indicated​ | 32​ | 62​ |
| "Range Used"​ | 224​ | 197​ |
| Actual Miles per 1% of battery used​ | 2.04​ | 2.45​ |

These data show that Non-regenerative driving is 20% more efficient (2.45 vs 2.04). Extrapolating from the chart also shows that the actual range is 32% less than the projected range with Regeneration on, while the actual range is 20% less than projected with Regeneration off.

Concluding, for my money, this is the most luxurious and exciting car I have ever owned. It's great power, handling, and features by far outweigh the quirks.
Nice review. Couldn't agree more with your conclusion