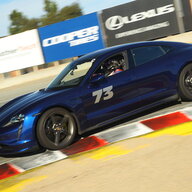 First Name

David
Joined

Jan 28, 2019
Messages
Reaction score

4,276
Location
Vehicles

Tesla(s), 911 GT3, Boxster S, Bolt, Taycan, Cayenn

Fellow Taycan owners,
I just thought I would share another successful trip report with the Taycan!
One my wife's and I"d favorite food places is
Bob's Well Bread in Los Alamos, CA
:
I've been itching for another long "test trip" with the Taycan so Saturday morning wife and I packed up the Taycan (w/my
full road warrior kit
) and our dog Cooper and we set out to achieve fresh baked goods and a leisurely drive through California.
The Drive to Bob's Well Bread was uneventful - we left home at 100% SOC - and I purposely "under drove" the speed limits to see how well the Taycan could do. I was in full range mode, and drove under the speed limit by 2-3 mph the entire way -except for some rare bursts of speed to pass or get out of the way of other's tail gating me.
The Taycan did spectacular! Temperatures were mild 63F-78F and we ran climate control in eco mode for the entire route. Efficiency was better than I ever achieved with my 2013 Model S P85D - and came in at 305 wh/mile - see picture below.
​
The Drive to Bob's well bread used 72% SOC (arriving at 28% SOC) with 78 miles "left" on the range meter in the center of the dash display. This places the Taycan firmly in the 280 mile range category - and strangely enough the exact distance was 201.9 miles - which is the Taycan's EPA rating. We we drove the EPA distance and arrived with 28% battery left over.
Importantly the Porsche navigation system originally estimated we'd arrive @ Bob's WB with 21% SOC - but given my gentle driving we actually managed to arrive @ 28% SOC - a real gain in range due to being very judicious on the throttle and average speed. If you're driving 280 miles or less and the Porsche NAV estimate says you'll arrive with 5% or more SOC I'm pretty sure the Taycan can do it.
one of the reason for this trip was to "test" Porsche NAV battery % estimate - and I found on this trip the estimates to be rock solid. Which makes the porsche nav a great EV planning tool!
Based on this experience I would get in a Taycan and easily drive 260-270 miles in mild conditions with no problem as long as I knew the charging landscape as to where I was heading.
Bob's also has two L2 chargers - and while we ordered lunch (they were quite busy) and baked goods I used my 80 amp TeslaTap to charge from the 40 amp Tesla L2 destination charger - during our stay at Bob's Well Bread we managed to go from an SOC% of 28 to 40% when we left.
​
The next segment of the trip was the real reason for the trip - I wanted to try my hand at some 350 kW goodness. My original plan had been to stop @ the
Pismo Beach EA chargers
, but given our stay at Bob's had taken longer than planned - we had enough battery to make it all the way to
Paso Robles Bank of America EA Chargers
- they had good rankings in the Plugshare app and importantly listed 350 kW chargers.
Porsche Navigation said we'd arrive with 14% SOC at Paso Robles - and we managed the trip (including an uphill segment) and arrived at the Paso Robles EA chargers at 18% SOC (again due to range mode and limiting our speed to slightly lower than posted limits).
I have to say this trip yielded my best EA charging experience ever!!!
Activation via the Charge America app - after failing with Porsche Connect app (it didn't show any chargers to activate)
Charge rate as you can see was 242.82 kW to start with
And at the end of the session I made sure the vehicle was fully unlocked and the keyFob was in my pocket and the charging connector came out the first time.
100% success and such a fast charging experience.
When the 350 kW chargers work the experience is stunningly good! We stayed exactly 30 minutes (the included free session) and managed to charge from from 18% SOC to 88% SOC in 30 mm 53 sec - and we delivered 67 kWh to the battery in that time for an average charge rate of 130 kW - I have never in 7 years of owning an EV charged to nearly 90% SOC in 30 minutes.
I initially got 242 and in various checking I peaked at 254 kW (nearly the 270 kW limit) but when checking later it had tapered to 150 kW or less - I don't have data for the entire session, but I do have data from various points and I've interpolated the "missing data" points - below you can see the graph of KW charge rate vs. battery SOC% - from my charging session the Taycan maintained a healthy 150 kW charge rate right up to about 70% SOC - and then started tapering…I'm not sure if the car was limiting charge rate or the EA station was limiting charge rate because I thought the rate could be above 200 kW until at least 60% - it doesn't really matter because nearly 90% SOC in 30 minutes is just great - and my wife and I both felt a bit rushed while we walked the dog to get back to the car at the 30 minute mark…
The trip from Paso back our home was uneventful and since the Porsche nav system estimated we'd arrive home with 39% SOC - I might have driven faster than some posted limits - we eventually arrived home with 31% SOC after clearly driving in a spirited manner - I believe it would've been trivial to achieve the predicted battery SOC% with the Porsche nav.
the final trip was 405.9 miles round trip @ 339 wh/Mile overall consumption - still pretty good efficiency wise even with some spirited driving.
What are my take aways from this trip?
This trip is further confirmation that the EPA numbers are easily beaten.
I'd be comfortable pushing the Taycan to 280-290 miles range on a full battery on normal US highway driving
Taycan's a great road trip car - comfortable and quiet
when EA chargers work there is nothing better on the market for EV fast charging - Porsche/Audi/VW are onto something if they get the network to be reliable
the Porsche NAV's estimated battery SOC is quite accurate - you can trust what the Nav system says your % SOC is going to be at the destination if you abide by the speed limits and route
I spent $0.22 to charge for the 53 second over-run on the 30 minutes included session - Porsche included $7.50 of EA charging for my one session.
the combination of an L2 charging stop w/TeslaTap while we ate lunch (90 minute stop) and a 30 min fast charging stop made a 406 mile trip virtually painless
30 minutes of fast charging taking the Taycan to nearly 90% SOC really isn't that bad of a stop - that means for 1 hour a day (2 30 minute stops) you can easily drive the Taycan nearly 750 miles in a single day (250 miles from home, 250 miles from fast charge stop #1, 250 miles from fast charge stop #2)
I had zero issues on this trip and EA behaved marvelously!!! My first time! I'd still like to understand why the charge rate topped out at 150 kW starting at about 40% SOC - but 150 kW is still super fast and better than you'll do at most Tesla Superchargers based on my 7 years of experience.
Last edited: