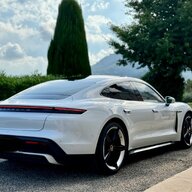 First Name

Peter
Joined

Nov 3, 2019
Threads
Messages
Reaction score

1,607
Location
Vehicles

Taycan T, Tesla M3P, Aston Martin DB9, Porsche 996 C4 Cab

Inspired by the beatiful report by
@tigerbalm
, I wanted to share with you our experience of a longer trip in our Taycan T. We have not been to see our grand kids or family in Stockholm for nearly two years with all pandemic restrictions and issues. So this opportunity was very much looked forward to. We have travelled this way a number of occasions before, but wanted to make shorter day trips with stays at nice hotels etc this time. Rather than driving the shortest and fastest route we planned as below. We still wanted to drive along the main motorways etc since the overall distance is more than 2550 km. So no scenic road trips were added this time. And I can guarantee you there are plenty of these along the way.
My wife was sceptical about travelling in the Taycan since we have had a number of not so good charging experiences with our Taycan. But agreed to make the trip in the Taycan, when I showed her all the alternatives I tried to plan in for charging stops in case of a charger mishap. We have a slight mobility issue.
I started out by trying to plan the trip with the Connect app, in order to be able to send the route to the car. Not so successful as can be seen in the photo below.
It was not possible to plan the route as we wanted to make.
So instead ABRP was used to find chargers and plan the route. This is chosen since we wanted visit places and family along the way.
Overall distance just over 3000 km.
Most of the charging stops planned were at Ionity stations and we aimed to have all stations within the Porsche Charging service. That meant I could start the charge with either the Connect app or the Porsche Charging card that has been provided. And I decided to leave the Brick of PMCC at home. It is so big and clumsy.
I have used the excellent spreadsheet shared by
@tigerbalm
, thank you!, to record my charging session. I was so impressed by the speed at which Ionity provided the charging times as well as kWh and cost per charging session, that I got lazy trying to read the info on the charger!
. Worked at few occasions but not all and I still have not got all of the data or bill.
I will try to make a short day to day summary and at the end make an overall reflection and summary of the car, roads and charging experience If this is of any interest.