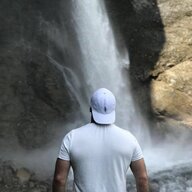 First Name

Kreshi
Joined

Feb 4, 2021
Messages
Reaction score

670
Location
Vehicles

Taycan 4s

Hey good people of the Taycan forum,
I literally just arrived home from an about 600km roundtrip.
My excitement is so strong that I had to sit down and write this quick and dirty report of my trip.
This is no detailed post with diagrams or anything, just a regular dude's first long trip with his Taycan.
The journey from Zürich to Stuttgart had no special events since my 85% charge offered a no-charging trip to the destination.
The journey back however was exciting - to me at least.
Started with around 50% 30mins north-west of Stuttgart. Drove the first 15mins on normal mode like a human being.
Then as soon as roads opened and I hit the autobahn, it was full power - as long as the law allowed.
200-240km/h , sometimes hitting the 260 limiter. Even in slight curves at 230km/h it felt like my little sister could do it.
The car feels like it's on rails. Unbelievable.
After about 100km I stopped at a gas station that had Ionity chargers. Big empty space with huge parking spots for each Ionity charger.
I arrived at 17-18% charge with a nicely heated battery. Plugged it in and the station immediately recognized the Taycan and started charging after a few seconds.
Note that this was my very first time charging at Ionity. So they plug&charge they implemented worked right away with no additional setup. Awesome!
It didn't even take more than 10 seconds to reach 260kW charging speed. Unbelievable.
After exactly 20mins I was at 82%.
Driving home was super easy. Used Innodrive almost the whole way at 140km/h. Worked I'd say 90% of the time perfectly.
One time it was crossing the middle line on the road. I just used the break once and activated it again - went back to holding the lane correctly.
I added some non-spectacular pics.
Wish you guys a happy easter.
Cheers!
Last edited: