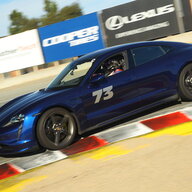 First Name

David
Joined

Jan 28, 2019
Messages
Reaction score

2,723
Location
Vehicles

Tesla(s), 911 GT3, Boxster S, Bolt, Taycan, Cayenn

this is becoming a "theme" and there is really nothing to report here - but I thought I'd note it - once again the Taycan Turbo shows it's self to be a solid 260-270 mile range vehicle…based on real world driving.
Drove 223 miles one way this week in 2020 Taycan Turbo - La Selva Beach, CA to Willows, CA + a short lunch detour next to free way (In/Out FTW)​
​
Left Le Selva Beach, ca home 100% SOC​
Arrived Willow, Ca 16% SOC​
​
Had a miraculous EA experience @ Willows Wall Mart 350 kW station​
charging America app - free charging session​
plug in @ 16% SOC - charge rate jumps to 249 kW​
go inside for some light shopping​
come out 23 minutes later 84% SOC​
​
my Teslas have never ever on any day charged that fast - in my 8 years of supercharging experience (2013 Model S P85 to today w/2017 Model X P100D)​
​
drive was done in range mode on the Taycan​
trip was done via: Hwy 1 North, 17 north, 880 North, 680 North, 80 East, 505 North, I-5 North - speed limits or +5 mph over the entire trip - 3 to 7 "burst mode" let's get around this slow car - touching speeds of 100 mph+ (I love me a good EV) - back to normal speeds.​
temperatures were mild 60's/low 70's - traffic was flowing to slight slight slight congestion​
ACC + LKA most of the way​
AC set to 68F​
​
221 miles / 84% SOC used = 265 miles estimated SOC 0% range - this is not the first time 260-270 miles range on my Taycan is the number I've achieved during a trip​
I don't remember the wh/mile number, but I did check it- and it was better than 333 wh/mile - I remember this because 333 wh/mile is exactly 3 miles per kWh efficiency - I noted from onboard computer I was doing better than 333 wh/mile, after that I didn't care - it was not below 300 wh/mile, and it better than 333 wh/mile…​
​
the Taycan Turbo that I have 9000 miles on is a SOLID 250 mile per full charge EV - 270-290 if you really really baby it - 210 miles if you drive it like you stole it.​
​
the EPA number is just wrong - like the EPA number for Tesla is just wrong, but in a different way.​
​
Taycan return trip was identical - left Thurderhill raceway with 100% SOC (thank you NEMA 14-50 RV plugs) - drove 243 miles (due to detour in Fremont) - arrive home at 11% SOC - 243 / 89% SOC = 273 miles estimated 0% SOC range.​
​
if you're not getting at least 240 miles range in a Taycan you're doing it wrong - or simply not trying.​
​
Attended a private track day to flog my '18 911 991.2 GT3 - OMG that vehicle is soooo awesome - was the only car there on street tires (20 cars 2 day private test days - open track) - achieved a new personal best of 1:58.75 sec on 3 mile course w/bypass - vs. a "pro driver lap" reference time of 1:56.92 in my car same day same tires (this guy is the 2016 Pirelli West coast series champion) - I have some room to improve - but I'm getting very very close to what that car can do. He is kind enough to hop in my car and give me reference laps to chase when I"m feeling smug - his reference laps always "fix" my smugness.
It's a glorious thing to drive an EV to the track to flog your ICE sports car - and then drive the EV home - perfect mix of right vehicle for right task.
2 days and $500 worth of 100 octane fuel later I drove home in my super efficient lux and comfy EV.
Last edited: