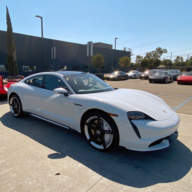 First Name

Wiley
Joined

Nov 23, 2019
Messages
Reaction score

437
Location
Vehicles

Porsche Taycan Turbo, Audi allroad, VW e-golf, BMW i3

I just completed a drive from LA to SF, using a different route than in the past. A few observations:

1. Range forecasting in Taycan was absolutely brilliant. And the trip planner actually proposed great charging options (exactly the same as ABRP, in fact). I was gobsmacked given past experiences. I did take my own route, but the system adapted well, and recommended reasonable alternatives based on the changes in route (I jumped off 5N at Lost Hills and drove on CA46 to Paso Robles before charging and then picking up 101N). Arrival SoC was within 1 percentage point of forecast SoC.

2. I had more issues with idiotic people in low-charge-rate cars using the 350 kW chargers. I place at least some of the blame on EA, since the numbers on the chargers are hard to read from most distances.

3. I did long stints at 80-85 mph, but given some slow traffic, my average speed over the 401 mile trip was 59 mph. Consumption was a little over 370 Wh/mi, or around 2.7 miles/kWh. The third stint (after charging in Paso Robles) was 189 miles on a 90% charge, arriving with about 5% remaining.

4. Somewhere between Paso Robles and Soledad on 101 the InnoDrive system started going nuts. The car kept trying to stop at phantom stop signs, and then began giving brake assist warnings. Switching to ACC worked fine, and I had no further issues. I've actually had thousands of trouble-free miles with Innodrive so far (I've put over 14,800 miles on the car since October 2020 when I took delivery), so this was particularly disconcerting.