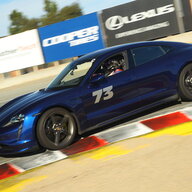 First Name

David
Joined

Jan 28, 2019
Threads
Messages
Reaction score

7,835
Location
Vehicles

Taycan, Cayenne Hybrid, 911(s) GT3/Convertable

the point here isn't could it be done better - the point here is that people should not have to deal with this sort of crap - Porsche's software is to blame here - and if it was better a whole bunch of pain and missed expectations would've been avoided.

for EV's to take off the OP is not the only person that will be bitten by this - and that is simply not how it should be...

lessons can be learned, but it would be best for EV's and infrastructure to evolve to a point that this sort of thing is uncommon to almost impossible.

however that is not today - so planning for road trips with an EV is necessary - I hope software can catch up to make this sort of issue less frequent…

apologies to the OP from the EV community - my sincere hope is that you do not let this one experience sour you on the potential with EV's - I think road tripping with an EV can enjoyable and mostly practical - but it does at this point in time require some planning and preparations…it will get better over time.

enjoy your Taycan - it's a great car!