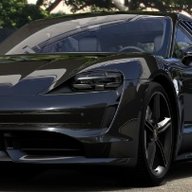 Joined

Oct 3, 2019
Messages
Reaction score

806
Location
Vehicles

Taycan Turbo

I picked up my Taycan 2 weeks ago, and 2 days later set off to hang out and "work from home" in Vegas for a week.
The trip is a bit over 500 miles each way, and since I was super-conservative, I planned on making 3 stops on the way (and one in Vegas once I got there). I was prepared for non-working EA chargers, but every single one functioned as expected, both going there and heading back.
I stopped on I-5 at the Shell at Panoche Rd in Firebaugh, at Bakersfield Plaza in Bakersfield, and at a Walmart in Barstow. In Vegas I used the charger at the South Premium Outlets a few times. I was usually in the 40%-50% range every time I stopped.
The car was great to drive on the road trip, as I went for the low-stress of setting InnoDrive at 5mph over, and just letting it deal with traffic. For nav, I used the Porsche Nav running on the passenger screen, and had Waze running in CarPlay (without route guidance, as you can't have both trying to navigate at once).
When I got to Barstow, one of the chargers was in use....
The owner of the silver Taycan was headed the opposite way, from Vegas, and he had just received his car also. I'm guessing we were probably on the same boat.
When I got home, the trip computer reported less than 340Wh/mi, which was better than I expected. There are definitely some decent elevation changes, and it can be pretty windy in places (as evidenced by the huge wind farm near Tehachapi).
In the future, I'd hope to do the trip in 1 less stop, but I think I'd like to see a few more 150kW+ chargers (not all have to be EA) along the way, to have backup plans in case a charger doesn't work, or is full.
One last thing, while at the Firebaugh stop, you can see a huge supercharger area across the road, and the 1 thing I was jealous of was that it was covered. None of the EA charging stops is covered, and it'd totally suck to have to deal with charging if the weather was much different than it was. (Sunny and between 75-85 at each of my stops).