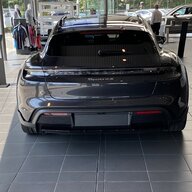 Joined

Jul 30, 2021
Messages
Reaction score

30
Location
Vehicles

Ride-on Honda Mower

Whilst patiently waiting for the car to be finished and shipped after paying a deposit in November 2020, with nothing but time to kill and having watched every youtube review there is (I know I'm not alone here..... or am I?) what next???
Number plates, not given it much thought before and with nothing else to review or research I decided to purchase a plate from DVLA.
Whilst trying to think of what goes with 71 I came up with a short list, having made my choice I thought I'd share the ones that were close, maybe one of the UK buyers waiting for their 71 registration to arrive might want to consider, so here they are:
MY71CAN - £399
CT71CAN - £399
VA71CAN - Auction (for the more religious customer I guess, would suit a Priest, but not sure how many Priests would be driving a Porsche?)
Hopefully someone on the forum might find this of interest, anyhoo back to tapping my nails on the table waiting for the delivery.....