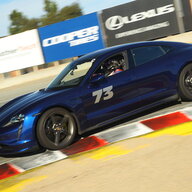 First Name

David
Joined

Jan 28, 2019
Threads
Messages
Reaction score

8,058
Location
Vehicles

Taycan, Cayenne Hybrid, 911(s) GT3/Convertable

choices ranked:
[Laborious]- 120V 15 amp circuit - NEMA 5-15 - household plug - 1.44 kW - anywhere is walking distance if you have the time - this is true for EV charging as well - you can charge from _ANY_ electrical outlet if you have the time

so technically you can charge your EV from a house hold outlet - it's a 1.44 kW charge rate so overnight in 8-10 hours you can replenish is 11.5 kWh to 14.4 kWh overnight - and from 2.4 to 3.2 miles per kWh that's 32 to 50 miles of driving a day - but you'll spend 10 hours charging at home…
if this is your "jam" great - but I'd suggest most people wouldn't consider this "good" or acceptable for daily use.
UPDATE: Jan 2023 - Porsche NO LONGER recommends L1/120V charging for daily use - as per an NTSB article they authored in Dec. of 2022 - I have updated the L1 posting to reflect this new recommendation from Porsche…see this thread for details and copy of the Porsche authored document - https://www.taycanforum.com/forum/t...-related-porsche-ntsb-article-analysis.13902/

[Sufficient]

- install a 30 amp charging circuit - NEMA 10-30 or 14-30 outlet - this is sufficient but not my recommendation - it's included for completeness - honestly for most daily usage even this level is overkill - 5.7 kW charge rate.

this is overkill based on the following theory - daily driving is less than 60 miles - it doesn't really matter how fast the car charges as long as it's ready before you leave in the morning
again NOT recommended, but sufficient and included for completeness.

[Acceptable]

- 40 amp breaker - 32 amp charge rate - 7.68 kW - a lot of previous EV owners may already have this installed.

[Good]

- install a 50 amp charging circuit - NEMA 6-50 or 14-50 outlet - use the included PMC+/PMCC EVSE that is delivered with the vehicle (purchase a non-Porsche 50 amp EVSE - 40 amp charge rate)

matches the Porsche included charger (PMC+/PMCC) - 9.6 kW charge rate - good for 98.675% of the time - most daily charging less than 4 hours (3 or less probably)

[Better]

- Install a hardwired 60 amp charging circuit - this will maximize your Taycan's standard charging rate - this requires a "wall charger" no mobile EVSE allowed

requires purchase of a Porsche Wall Charger or ClipperCreek HCS-60 (or other EVSE of your choosing)
kinda a "sweet" spot in my humble opinion - maximiizes the standard Taycan charge rate, but cost effective…easy to get a 60/48 amp EVSE…

[Best]

- see recommendation for maximum expense, future proofing and EV charging dominance…

will make your EV friends jealous, and I'll visit just to admire the system

my visit may be consider a pro or a con after you read this.

[OPTIONAL] - add the 19.2 kW charging option to your Taycan
thanks to
@MBAZ
- this post is a result of a nice chat we had offline…
the criteria is simple for the rankings - faster home charging is better - and the scale presented ranks charging options on that simple criteriea - faster is better…if that's not your choice to optimize then you can now make an informed decision about what charging system fits your personal needs and budget.
but this set of choices is kinda the "core" set - and I can't honestly think of any other simple set of choices - other than 100% dependance on public fast/slow charging - and this is really honestly not something I personally would recommend…home charging is one of the great benefits of EV ownership - staying with the "gas station" model is the not the goal in my opinion - charging at home MOST/98% of the time is the goal in my opinion…but people have different opinions…
again these are the choices - which is best for you is your choice.
Update Dec. 2022 - Porsche now recommends the HUBBLE industrial/commerical grade NEMA 14-50 (or 6-50) plug sockets. I agree 100% with this recommendation and in my opinion it is a requirement, not simply a recommendation - you would be wise to follow their (and other EV vendor's advice) and specify the Hubble NEMA plug socket to your electrician - do not accept lesser alternatives.
Last edited: