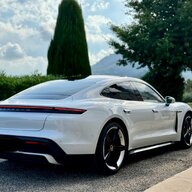 First Name

Peter
Joined

Nov 3, 2019
Messages
Reaction score

255
Location
Vehicles

Tesla M3P, Porsche 996 C4 Cab

In connection with @louv's nice summary of software issues, bugs and feature requests, I just read an article in a Swedish paper about the challenges that VW group have with SW programs. Their launch of the new ID3 has been delayed a bit, but the mechanical cars are produced and now stored at old airports etc. I have below provided the link for anyone wanting to practice their swedish reading. But I have also below translated the summary with the help of Google Translate.
https://www.svd.se/bakslaget-for-nya-elbilen--mjukvaran-inte-klar
""This means that the customers who receive the first ID3 in September later have to take the car to the workshop to get the software upgraded. It is only then that they get access to all new features.
We can and we want to develop our own software platform.
From sometime next year, it will be possible to get the cars upgraded wirelessly via the network. It is a technology that Tesla uses extensively to express new features.
To gain better control, Volkswagen now spends just over SEK 70 billion (about 7 billion USD) on building its own software organization, Car software.
- We can and we want to develop our own software platform. And we want Volkswagen to become a software-driven car manufacturer, says Christian Senger, director of Car software in a written comment.
The goal is to internally generate at least 60 percent of the software needed in the cars. Right now, Volkswagen only makes 10 percent of the software and buys the rest from other companies.
According to Christian Senger, it is important for Volkswagen to have control over the IT systems in the cars on their own.
- We cannot give anyone else full access to the data contained in our vehicles, says Christian Senger.
In addition to software, there are considerable economies of scale. Once a computer program is developed, it can be used in any number of cars and Volkswagen sold 11 million cars last year.""
If they only develop 10% of the software themselves and subcontract the rest, it is no wonder it is a challenge to release new fully tested sw?
And if the group has limited sw resources and need to focus on launching ID3 which is a volume car, I can imagine where all the resources are allocated. And the Taycan has reasonable working sw. Interesting as well is the comment that OTA will only come next year!