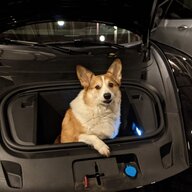 First Name

Sherman
Joined

Jun 21, 2021
Messages
Reaction score

59
Location
Vehicles

2020 Taycan 4S

Earlier this month, my GF, her corgi, and I took a road trip from Seattle all the way down to Houston to visit family and then back up to Seattle again. While we were down in Texas, we also made a run to Austin for some mandatory BBQ and to visit a close friend. On the way down, we split the drive into 4 days makes stops in Salt Lake City, Denver and Oklahoma City. On the way back, we decided to do it in 3 days and stopped over in Wichita and Frisco. It's pretty safe to say that we took the car thru its paces and gave it a pretty thorough shake down. Most everything went super smooth except some hiccups, but overall it was relatively positive until the end of our trip. Despite that, there was a lot of learning over those 7 days and perhaps some of this can be helpful to other Taycan owners. We went from sea level, all the way up to 10,000+ ft in Colorado, then back down to sea level again. Drove hundreds and hundreds of miles thru high 90 degrees weather in the deserts of Utah and went thru the 2nd coming of Noah in a torrential Texas downpour where you could barely see 50 ft in front of you and where people were driving with their hazards on for visibility. Only thing that's missing was snow conditions which I'm willing to say I'm glad we didn't hit since we were driving on summer tires. At the end of all this I'm pretty sure my GF is now converted to EV cars as well our corgi, but I think he may associate endless watermelon w/ road trips now. Overall, impressed with the Taycan, however it's at the dealer's right now getting some repair done. (Details below)
Also, something is very wrong in the world when you're charging your Taycan at a Taco Bell while you're eating a McDonald's breakfast sandwich.
The Car
2020 Taycan 4s
20" Summer Tires
Panoramic Roof
93.4 kWh battery
Rear Axle Steering
InnoDrive
Porsche Intelligent Range Manager (PIRM)
TLDR
PIRM, worked well. But when you get a map update and you are driving in range mode w/ route planned in the Nav, put the car in Normal mode ASAP so you don't brake check someone.

Porsche Charging app can use more frequent station updates. Multiple stations where 350kW stations was under 50kW or just completely missing.
When charging w/ app, wait for price screen, then activate.
InnoDrive is great when you're driving in unfamiliar curvy road in the middle of the night where there are no lights and you can't see ahead of you.
Adaptive cruise can use some tweaking when changing lanes.
Taycan will get 3.0-3.5 mi/kWh going 75. 2.4-2.5 when you're traveling at 85. If you get a tailwind, it is possible to do 3.0 mi/kWh going 85. (See photo below)
Different charging curves for 350kw vs 150kw charger. So even if you're past the SOC to get 270kW, it can still be worthwhile to use the 350kW.
Taycan is too aggressive when it tries to bring the car back down to the max speed limit whether it's set because of range mode or because of speed limit signs. Be very careful on this or you may accidentally brake check someone.
The Taycan is a road tripping beast.
Be aware of TSB 19-21 for fogged up rear view camera. This requires the rear wiring harness to be replaced along with the rear view camera.
Taycan's windshield get chipped easily
PIRM estimates best for going ~70mph. If going faster, make sure you monitor your range and decrease speed if necessary.
Mobile Charger w/ 110v is pretty useless due to the electrical current capped out at 8 amp. This means you're charging at 0.8kW/hr or about 2 mi/hr.
Corgi farts are no match for the in car Ionizer
The Route
Prior to the trip we used A Better Route Planner (ABRP) to get an idea of the highways which we'll be on and to figure out what major cities we could stay at along the way. This helped setting an agenda for each day and so that we can figure out food options for lunch and dinner. The route which ABRP planned was relatively close to what PIRM suggested. The only difference was the route from Denver to Oklahoma City. PIRM wanted to take I70 where ABRP wanted to go I25 south and then East on I40. Now as for why ABRP is important, PIRM was not able to generate a route from Seattle > Houston which is not too surprising. To compensate for this, we would punch in the major cities we would be passing thru from ABRP so that PIRM could come up with a route. As soon as we were 1-2 stop away, we would then change the destination to the next major city so that PIRM would add the necessary charging station.
Our plan for the trip was to do about 10-12 hours of driving a day, stop every 2 hours or so which was about how all the EA stations were laid out, and then book the hotel the same day. The only issue which didn't quiet work out too well was finding a hotel for cheap when you have a dog travelling with you. You can't really use apps such as Hotwire since even though they'll book you at a pet friendly hotel, you're at the mercy of the hotel regarding pet fees. Some are great and some like to charge you up the wazoo. On the way back, we just simply used Bookings.com and booked rooms at La Quinta since they only charge $20 for pets.
There was plenty of great scenery along the way and I personally feel that everyone needs to do at least 1 road trip across the US in their life. The US is a very diverse place and I think sometimes we lose sight of that. Along the route, our favorite stop was at Green River, Ut. The 350kw charger was actually charging at full speed and located at a local coffee shop (
Green River Coffee
) where they roast their own coffee beans. Then 1 block down from them was one of the best taco trucks (
Tacos La Pasadita
) I've ever had. If you are ever there, get their al pastor and tripas (get it crispy) tacos. Not only did we stop there on the way down to Houston, we dropped by again on the way back where I loaded up on their tacos. The scenery in Utah and Colorado were magnificent. However we were a bit too early in the early year to be able to drive through endless miles of corn fields. Whether that's good or bad, that's a tough one to decide.
Seattle > Houston
Houston > Seattle
Charging Network / Porsche Charging App
So this shouldn't be much surprise to anyone, but for our trip we were able to make use of EA's charging network exclusively to make our way all the way down to Houston. We took advantage of as many 350kw chargers as we could and they were all conveniently placed at a location where we can take a quick bathroom break. Most of them were at Wal-Mart, but there were also a couple that were located at a Sam's Club and then some at a gas station such as Love's. Only time where charging was a pain was in southwest Houston where they only have 50kW chargers. FYI, 50 kW chargers are PAINFULLY slow. It does looks like EA is slowly upgrading their 50kW chargers though.
For those of you that haven't had experience using the Porsche Charging app. Tip here is don't be in a rush to activate the charger on the app. 1) Plug the car in, 2) Wait until the EA charge gets to the screen that shows you the price, 3) then activate. My experience where it failed to activate had been when I was activating the charger before getting to the pricing screen. It's not the most straight forward thing especially when you need to use the Porsche charging app instead of EA's. If you are at a station and can't figure thing out and there happens to be another Taycan driver next to you, ask him. I had the pleasure of helping out a driver in Austin who had just owned his Taycan for 1 day and another driver with a Frozen Berry RWD up in Wichita.
Couple of thing that I learned regarding charging the Taycan and the Porsche charging app. During the trip, the car kept the battery temperature between 91-94 degrees. This pretty much assured us that whenever we rolled up to a station, we don't have worry about the battery being too cold to get optimal charging. What we also noticed is that depending on if you were charging on a 150kW or a 350kW station, there is a different charging curve for each. The 350kW would get up to 270kW, maintain it, then drop down to 150, and then down to about 80-90kW. On a 150kW station, it would get to 150kW, drop down to 100kW, and then down to ~50kW. For those interested in the charging, see below on the stops, charger speed, how much I charged, and how long it took.
We found several stations where the Porsche charging app didn't have all the stations and even some stations where the 350kW was under the 50kW. I can see why Porsche didn't want to leverage the EA charging app like the VW ID.4 does for their free charging, but they need to be keeping that up to date on a daily basis. What's also really bad on the charging app is that "Send Feedback" under support doesn't work. Call support ends up calling Porsche Roadside Assistance which doesn't do you any good when your issue is with the charging station. Charging station issues is an area where I would say that Porsche didn't actually test to make sure that their have a proper customer experience.
PIRM
For the majority of the trip, the PIRM routing was excellent. The estimates were pretty accurate and typically leaned toward the conservative side so that it can be sure that you get to your destination. From my observations, the consumption rate which it was using looks like to be pretty close to the car's consumption rate going 70-75 mph. When you start traveling 80+, its estimates gets more inaccurate. On one leg of the trip from Perry to Heyburn Utah, we were traveling at 83-85 MPH and the PIRM was short about 50 miles of range. When the range gauge started getting down to within 15 miles of the distance to the next station, we started dropping our travel speed down to 70 MPH and it seemed to stabilize our battery usage so that we would have 15 miles of range by the time we got to the station. On the topic of battery consumption, we observe 3.0-3.5 mi/kWh when traveling @ 70-75MPH. When you start going 85 mph with a slight headwind, you're looking at about 2.5 mi/kWh. Basically, be mindful of the environment that you're driving in. Speed, wind, rain, elevation changes all matter. In the right condition, you can get 3.0 mi/kWh while traveling at 85mph. It's doable. That's how aerodynamic the Taycan is in range mode. Now as a reference, the Chevy Bolt I had previously would only get 3.5 miles / kWh while traveling at 65mph.
So there is one really really bad thing with PIRM. As reported by a lot of other Taycan owners, there are situations where range mode's 55mph speed limit would kick in. What we found is that there is a correlation between this and when the Navigation map updates.
During our travel, there were multiple times where we would get the "Map Updated" message on the infotainment, then 1-2 minute later the 55MPH limit kicks in. What was happening to us was that the map update would trigger a route re-plan and then the car would suddenly decide that you're doing great with your driving, let's stretch out this leg of the trip by skipping what was already planned and to the next station @55mph. When this happen, it would then go into full regen, slows you down to 55MPH as fast as it can, and lock out the go fast pedal so that you cannot maintain your original speed.
To combat this, as soon as we felt the AC go into full eco plus or we see the planner doing its thing, we put the car into normal mode ASAP. What Porsche should of done is to just let the Taycan coast down to the max speed. Either that or a mild regen. What they have now is in my opinion dangerous and will cause you to potentially get rear ended due to an unintentional brake check. This behavior is also why I have Speed Limit Sign monitoring turned off completely. If you are doing a long distance trip and you have PIRM, be ready for this. If you have the Sport Chrono option, you're lucky and have the knob. If you don't, you probably want to add drive mode to the PCM screen.
InnoDrive / Adaptive Cruise / Active Lane Keep (ALK)
The Taycan is the first car that I've owned with Adaptive Cruise. Frankly speaking, where have you been all my life? It make long distance driving so much less stressful. ALK and InnoDrive were both very helpful as well on later days when the muscles in my arms and chest were starting to get tight. I normally drive with my arms at the 3 and 9 position with my elbow bent at about 90 degrees. This is great for performance driving, but when you're driving close to 12 hours a day, those muscles get really sore and stiff. Having ALK and Adaptive Cruise meant that could just keep my arms down and relaxed where I'm just babysitting the car. Definitely makes a lot more sense to me now why it's important for Leman drivers to have masseuses on hand.
A lot of comments discredit InnoDrive and they have good points as to why you shouldn't bother with it. From my experience, I found InnoDrive to be invaluable. We were driving on roads which we were not familiar with so I didn't have a point of reference on how fast I can be taking some of those curves. InnoDrive was super helpful in those situation by adjusting the speed for you. Now yes, during the day, you can see perfectly, but when you're driving through these blind corners in Idaho / SE Washington in the dead of night with no lights what so ever, InnoDrive is your best friend. It makes sure that you don't take a curve going way faster than you should. What I did find intrusive was ALK during the windy bits. For me, ALK turned into the turns just a hair too early the majority of the time and it's not able to operating the steering smoothly. When ALK is doing its thing and making adjustments, it's very notchy. What worked best for me was to leave InnoDrive on, but to turn ALK off. This way InnoDrive made sure that wasn't taking an unknown curve way over the speed at which would cause me to go into the canyon and then I can focus on making sure I manage the pitch dark curve and avoid any potential wildlife.
One thing that the Adaptive Cruise didn't do too well on were situations where I was changing lanes or if another driver pulls in front of me. When changing lanes to pass someone, the Taycan would immediately start accelerating when you start put on the blinker. This would happen regardless if there was going to be a car in the lane you are changing into. What would happen is that 1) we would be in the right lane behind a slow vehicle and 2) another car is along side of the slow car in the lane that I'm planning on changing into, but his car in the left lane is traveling a bit faster than the car in my current lane, 3) I'd put on the blinker, the Taycan starts accelerating, 4) I'll change lanes and then the Taycan would realized that it's going faster than the new car that I'm now behind and then 5) it starts going into medium to heavy regen to maintain distance. Not the best experience. Instead, I started to turn off adaptive cruise, change lanes, then reenable. I found the optimal adaptive cruise distance setting that wouldn't freak out my GF was 3. At that distance, the Taycan would be able to gradually slow to match the speed of the car in front where at 2 it would utilize a medium regen. In the heavy Texas rain, 5 was perfect and was able to see further than I could.
The Unfortunate Stuff
So unfortunately I can't say that the trip was completely uneventful. On the way into Houston, we got to drive in what I would call the second coming of Noah. The rain was so bad that you couldn't see more than about 50 ft in front of you. Everyone was driving w/ their hazards light on so that the people behind could see you. Unfortunately in that condition, the rear view camera got condensation into the lens. This is apparently a known issue as there is a
TSB
(19-21) for this. The dealership down in Houston found moisture in the rear wiring harness as well so right now my Taycan is at the dealership in Washington waiting to get it fixed.
Two other issue happened as well which are currently being looking at too. 1) I started hearing a high pitch whine on medium to hard acceleration and regen. I believe this is related to the high voltage lines as it's happening on both acceleration and regen. 2) On the last two stop of our trip, DC fast charging also failed. We weren't able to activate the charger thru either the Porsche app nor the EA app. We were able to get the charger started by using a CC, but it was be at a decreased 66kW charging rate. Had issue reaching Porsche, but once we were able to reach EA customer service, they were able to somehow get the chargers activated and charging at full speed. Anna from EA was wonderful and even informed her team to expect a call from us in about 2 hours as we still had 1 more stop left. This happened on 6/20 and at 3 locations on all 12 stations. When this happens after you've been driving for 18-19 hours and it's 1am, you get pretty dejected. No idea if this is an issue w/ the Taycan or with EA. (7/7 - Dealer noted that they found code pertaining to charger station issue. Same issue was reported in another
thread
around the same time where I was having issues.) After we got back home at around 7am, we got a few hours of sleep and decided to try another charger again and drop the car off at the dealership. This time the car was able to start the DC fast charge but only for 1 minute before stopped unexpectedly. The dealer is checking up on this as well, and we haven't heard anything back yet. I hope Porsche can figure out what the issue is. In the mean time, I'm in a Macan. No where nears as fast as the Taycan, but I do love how fast and responsive the infotainment is. Makes me wonder what the hell happened to the infotainment in the Taycan. We also had an instance where all the cameras went out, no idea on the exact cause, but eventually restarting the car fixed it.
Charging Data
| | | | |
| --- | --- | --- | --- |
| June 4 - Home > Salt Lake City (828 mi / 13h12m) | | | |
| 1406 Canyon Rd, 98926 Ellenburg, US | 350kW | 19kWh | 10min |
| 77522 S hwy 207, 97838 Hermiston | 350kW | 56 kWh | 19min |
| 11619 Island Ave, 97850 Island City | 350 kW | 25kWh | 13min |
| 40 Washington Street W, 97907 Huntington | 350 kW | 17 kWh | 8min |
| 8300 W. Overland Rd, 83709 Boise | 350 kW | 33 kWh | 14min |
| 2745 Amrican Legion Blvd, 83647 | 50 kW | 39 kWh | 23min |
| 326 ID 24, 83336 Heyburn | 350 kW | 27 kWh | 15min |
| 1905 South 300 West, 84115 Salt Lake City | 350 kW | 25 kWh | 6min |
| June 5 - Salt Lake City > Denver Co (506 mi / 9h12m) | | | |
| 1905 South 300 West, 84115 Salt Lake City | 350 kW | 39 kWh | 20min |
| 25 East Maint Street, 84525 Green River | 350 kW | 54 kWh | 20min |
| 1040 Independent Ave, 81505 Grand Junction | 350 kW | 30 kWh | 15min |
| 110 W. Madows Dr 81601 Glenwood Springs | 350 kW | 30 kWh | 13min |
| 840 Summit Blvd, 80443 Frisco, US | 350 kW | 42 kWh | 19min |
| June 6 - Denver > Oklahoma City (745 mi / 11h25m) | | | |
| 412 Eagleridge Blvd, 81008 Pueblo | 350 kW | 26 kWh | 13min |
| 2921 Toupal Drive 81082 Trinidad, US | 350 kW | 57 kWh | 31min |
| 504 Old Highway 85, 87752 Wagon Mound | 350 kW | 8 kWh | 4min |
| 1900 South Mountain Road, 88401 Tucumari | 150 kW | 19 kWh | 9min |
| 8952 West gate Pkwy, 79124 Amarillo | 350 kW | 57 kWh | 21min |
| 901 N Sheb Wooley Ave 73645 Erick | 350 kW | 32 kWh | 15min |
| June 7 - Oklahoma City > Houston Tx (486mi / 9h) | | | |
| 501 SW 19th St, 73160 Moore | 350 kW | 58 kWh | 15min |
| 1715 N Commerce, 73401 Ardmore | 350 kW | 31 kWh | 15min |
| 2750 W. University, 76201 Denton US | 350 kW | 22 kWh | 11min |
| 700 E Ennis Avenue, 75119 Ennis | 350 kW | 36 kWh | 18min |
| 1620 East Main St, 77864 Maidsonville | 350 kW | 39 kWh | 17min |
| Total | | 821 kWh | 364 min |
| | | | |
| --- | --- | --- | --- |
| June 18 - Houston > Wichita (635mi / 10h51m) | | | |
| 111 Yale Street, 77077 Houson | 150 kW | 23 kWh | 11min |
| 141 I-45 77430 Huntsville | 350 kW | 49 kWh | 14min |
| 1715 N Commerce, 73401 Ardmore | 350 kW | 53 kWh | 15min |
| 700 E Ennis Avenue, 75119 Ennis | 350 kW | 12 kWh | 12min |
| 501 SW 19th St, 73160 Moore | 350 kW | 33 kWh | 16 min |
| 4415 W Doolin Ave, 74631 Blackwell | 350 kW | 17 kWh | 7 min |
| 7700 E Kellogg Dr, 67207 Wichita | 350 kW | 46 kWh | 17min |
| June 19 - Wichita > Frisco (583mi / 9h33m) | | | |
| 500 N Ohio St, 67401 Salina | 350 kW | 14 kWh | 6min |
| 4301 Vine Steet 67601 Hays | 350 kW | 51 kWh | 15min |
| 115 W Willow St 67701 Colby | 150 kW | 49 kWh | 25min |
| 14500 W. Colfax Ave 80401 Lakewood | 350 kW | 40 kWh | 13min |
| 840 Summit Blvd, 80443 Frisco, US | 350 kW | 23 kWh | 9min |
| June 20/21 - Frisco > Seattle ( 1307mi / 21h) | | | |
| 110 W. Madows Dr 81601 Glenwood Springs | 350 kW | 40 kWh | 18min |
| 1040 Independent Ave, 81505 Grand Junction | 350 kW | 7 kWh | 5min |
| 1040 Independent Ave, 81505 Grand Junction | 150 kW | 8 kWh | 4min |
| 25 East Maint Street, 84525 Green River | 350 kW | 56 kWh | 20min |
| 1200 S. Commerce Way 84302 Perry | 350 kW | 3 kWh | 2min |
| 1200 S. Commerce Way 84302 Perry | 150 kW | 26 kWh | 12min |
| 326 ID 24, 83336 Heyburn | 350 kW | 58 kWh | 15min |
| 2745 Amrican Legion Blvd, 83647 | 50 kW | 33 kWh | 13min |
| 2745 Amrican Legion Blvd, 83647 | 150 kW | 8 kWh | 4min |
| 8300 W. Overland Rd, 83709 Boise | 350 kW | 39 kWh | 21min |
| 11619 Island Ave, 97850 Island City | 150 kW | 20 kWh | 17min |
| 77522 S hwy 207, 97838 Hermiston | 350kW | 20 kWh | 17min |
| 77522 S hwy 207, 97838 Hermiston | 350kW | | |
| 1406 Canyon Rd, 98926 Ellenburg, US | 350kW | | |
| Total | | 728+? kWh | 308 + ? Min |
7/7 - Updated w/ info from dealer regarding DC charging issue.
Last edited: