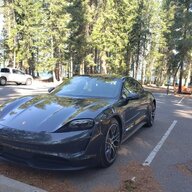 First Name

Frank
Joined

Sep 6, 2019
Messages
Reaction score

1,159
Location
Vehicles

Taycan 4S

So, I put down a waitlist deposit for a CT4 today with the intention of trading in my 4S. I thought it might be useful for anyone considering which version to get to hear my logic.
1) Money. IMHO you're getting a lot more value in a well speccd CT4 than you are in a moderately speccd 4S. Depreciation may disagree but I believe the changes + much lower starting price get you a lot. You're coming in at least $15k under a similarly speccd Sedan 4S.
2) Options. There are a few options I'd like to choose differently and I just don't want to dish out the money for a new 4S. Specifically I'll be changing the exterior color, adding leather, adding 18 ways, and adding insulated glass.
3) The hatch + added ground clearance. Honestly these two tweaks, especially the hatch and rear headroom, really make the car significantly more functional. The trunk as is just sucks because of the shape & tiny entrance. Everyone that has a Taycan knows the dreaded "BREEEEEEP" when the trunk fails to close even though there is almost nothing in it.
The ground clearance in Lift right now is juuuust enough for me to feel okay taking it through a shitty ski resort parking lot, the extra 30mm will really help.
4) The extra speed is cool once in a while but really the 4 will be plenty fast enough. In 95% of my driving I find myself only using 2/3rds to 3/4ths of the throttle even when driving aggressively. I know people are addicted to speed, and I was with the 4S for the first month or so, but going from an insanely fast car to a very fast car seems just fine to me. Honestly I'll be excited to actually floor it more often.
So really it comes down to wanting to respec my car and believing the CT4 represents much better value.
Last edited: