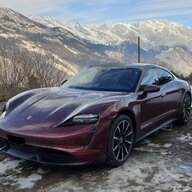 First Name

Philippe
Joined

Mar 10, 2019
Messages
Reaction score

255
Location
Vehicles

Yes!

Hi Guys today I had the pleasure to do a driving experience on the Hockenheimring .
First a very fine three course meal and then some driving experience with a 911 carrera 4S and a Taycan Turbo both equipped with PCCB brakes.
It was my first driving experience with Porsche cars (except for a Taycan test drive). We had three different parts :
-Slalom
-Going transverse on a slippery area
-Some track (relatively slow, less than 180 km/h top speed)
My feedback comparing the two cars is the following :
The 911 truly handles like a true pure sport car. Very fine and precise handling, strong and very good dosing of the brakes.
The taycan handles like a luxury GT with a very strong sport car orientation. The handling is precise but not as fine as the 911, when doing the slalom I felt the Taycan not as agile as the 911 (the weight was clearly noticeable). On track I would say that the Taycan was almost as agile and precise, but the weight of the Taycan clearly bring some more inertia that was significant. The braking was quite special compared to the 911, somehow not as « Instictive ». Handling when doing transverse transition from normal to slippery condition was more « lenient » with the Taycan.
It was really great doing the same experience with both the 911 and the Taycan.
Enjoy some pictures from Hockenheimring Porsche Experience Center.
And the last words are from my wife « the 911 is really quite nervous, I feel much more confident driving the Taycan »
PS : to sum up the Taycan is a really nice luxury GT with a very strong sport car orientation, but if you want a car to « play » with I would suggest a 911
Last edited by a moderator: