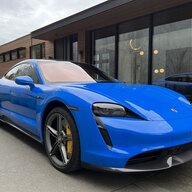 First Name

Dave
Joined

Dec 12, 2020
Threads
Messages
Reaction score

499
Location
Vehicles

Taycan TTS, F8 Tributo, Shelby Baja, X5, Tesla M3P

I'm sure not a ton of folks are cross shopping but maybe a few.
Here is a little review I posed on Renlist on my experience over the last 2 months. You'll see what won out.
Review:
In the last 8 weeks I've purchased a 2021 Taycan 4S and a 992 turbo S Cabriolet. Now that I have a few miles on both of them I can offer a real world non sponsored true owner review.
Of course they are very different cars that have different markets. The 4s is obviously much cheaper (100k) but I if you were to compare the turbo S Taycan it would reach the 911 price.
Most people here know the turbo S well. I won't repeat most of it but it's obviously an amazing car and would be a great daily driver with supercar performance. I did the PEC - la delivery so I got to drive it on the track and it was Incredible. Turning off all driver assistance you can get the car sideways but not that easily. I wound not want to try this with the Taycan. It's too heavy but I hear folks do it?
The power is awesome. Launch control has an EV feel of instant torque. On regular city highway driving there is oddly a LOT less torque "feel" and you can easily hit 90-100mph and not even notice or feel it.
The sound is so so to poor even with the sport exhaust which I have but taking the top down and you can hear all the burbles and pops and it sounds pretty good. It's no 488 but much better than my 991.2 cab.
The Taycan is a totally different beast. Even with the 4s it feels insanely fast and even with city driving the torque feeling feels very special. I've had 5 different EVs in the past 9 years since my first Model S in 2012 and Porsche CRUSHED it with their first car. I hear some of the 2020 had issues (just like the Model S did in 2012/13) but I've had zero issues in 8 weeks
The sound of the Taycan sport exhaust is cool and unique. I think the uniqueness is what I like the best. It sounds like you are in some Star Wars ship going into warp speed. Maybe this will get old but for now I really like it.
The pcm is better on the Taycan. You would think they would be the same as they are both 2021 but the Taycan works better and is more intuitive. The 992 is too busy IMO. Trying to put the spoiler up or down requires going into the menu which is annoying if you are retracting this for real world bumps etc. At the very least they should let you auto program a diamond key for this since they got rid of the button.
Stereo is actually better in the Taycan and I have the Bose system versus the Bermeister I spec'd in the 992. I've always upgraded my cars Stereo (I didn't spec the Taycan) but I think the 911 just doesn't have the space available for a stereo to sound great. Maybe I'll learn someday.
Obviously the top down experience is unreal. Can't beat it in a 911 Turbo S.
Overall, I think if I had to pick one - I might get the Taycan. Don't get me wrong I LOVE the 911 but There is something really special about the EV feel and this is the 4s. I think the turbo S might be too insane?!?
I can't imagine how amazing the 911 will be when they convert to electric or hybrid which is obviously coming.
Anyway I'm sure there are lots of thoughts/opinions here but it's just my 2c.