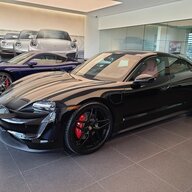 First Name

Luke
Joined

Aug 19, 2020
Messages
Reaction score

321
Location
Website
Vehicles

Work at Porsche Grapevine as the Taycan specialist.

Hello Everyone!

Several members have asked me if my dealership (Porsche Grapevine in the DFW area of Texas) has available allocations, and even if they could order a vehicle through me.
We currently have available allocations for pretty much every model of the Taycan right now, with some deliveries being available as early as January.
For out of state clients who want to order a Taycan all I would need is a Copy of your Driver's License and a $5,000 deposit (depending on your build-might require more for special color combinations), which I can send to you in an secure payment link via email.
The deposit would be refundable up until the allocation locks into Porsche. From that point forward we would hold a retainer on the deposit until you took delivery of the car which you could apply to the purchase of the car if you'd like.
If you chose not to take delivery of the car after the allocation locks in, we would hold the $5,000 deposit as a retainer until we were able to sell the car to someone here locally here in the Dallas/Ft. Worth area and then we would refund the deposit (depending on the build it could take months).
You can always choose to do an Atlanta or Los Angeles Experience Center Delivery if you live closer to those locations (I might even fly out and make a personal appearance!), or you could fly out here and have an epic road trip home (my dealership is literally right across from the DFW airport, I'll pick you up!), or we could help recommend some transporters that you could utilize.
Either way, even if you plan on ordering your Taycan elsewhere, I am happy to review anyone's order and give my thoughts/recommendations - just send me your Porsche Code. If you feel like your salesman just isn't giving you the right guidance, or you have questions that you can't seem to get the answers to please feel free to send me a DM and I will see if I can assist.

Last edited: