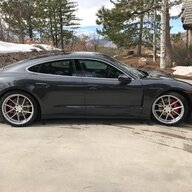 First Name

Jeff
Joined

Feb 1, 2021
Messages
Reaction score

13
Location
Vehicles

2020 Taycan 4S

I just completed the 1 year anniversary of my Taycan S4. I have yet to take any long road trips so I just don't know how far I can drive it on a full charge, but my daily driving has proven better than I planned. I also have 21" aftermarket wheels which probably increased the power usage.

I drove 9700 miles and used 2754.8 KW. 3.52 miles per KW. At 12.0 cents per KW for at home charging. This cost $331 for the year, not that I bought a Taycan to save money. Part of my motivation was to decrease my energy footprint and the Taycan has helped. I am generating about 65% of the power to run my home (Nat Gas heat) and 2 EV's from my roof top solar system.

My driving includes some slow neighborhood, lights and stop signs on a daily basis so my average speed is probably under 50MPH.
If you are new to electric vehicles and the Taycan, the one surprising change from gas power driving is the reverse in mileage and efficiency with speed. Highway miles get lower mileage than slower in city driving. Most of my freeway speed is 75-85 MPH and the efficiently goes down compared to my daily commute at lower speeds.