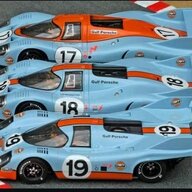 First Name

Dee
Joined

Dec 14, 2018
Messages
Reaction score

1,345
Location
Vehicles

Yes.

I've had the same messages and my Taycan has been at the dealership for the past two weeks addressing the random WBA warnings as well as otherissues (eSound disappearing, PCM resets and Passenger screen working intermittently).

For the WBA issue, I have a response from the Taycan "expert" at PCNA....

"- WBA limited. It should say in the owner's manual that it's not a problem. WBA is warning and brake assist. You see this message when there are circumstances that it isn't completely sure about. If it isn't very certain of the surroundings,



it must limit itself and that's all it's saying. I have far more time and miles of seat time with Taycan than anyone else so I've seen this many times. The most common times for me:

1. Weather.. usually heavy heavy rain or in particular, splashing through big puddles.

2. Just unusual (to the ZFAS system) surroundings where the mapping, camera, and radars are not quite clear on the situation. There's this spot by my home that will set that message (not a warning) off about 25% of the time. It's tough to describe but it's two lanes going each way, downhill, I'll be in the left lane, and the center median had a row of skinny trees with very thick tops that start about 8 feet from the ground. It really doesn't matter what the scenario is but that's the one that makes that message appear for me. There are numerous ways that the system can be unsure of the surroundings and it's certainly not going to act on information it's not certain of. Therefore, it just let's you know that."

So it seems that the sensors associated with the Warning and Brake Assist (WBA) subsystem are set to a higher level of sensitivity which seems to drive these warnings.

YMMV.

Toby
Long story short: if it's blind it can't see.