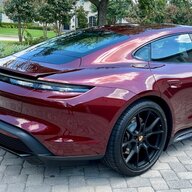 Joined

Dec 1, 2021
Threads
Messages
Reaction score

58
Location
Vehicles

Taycan GTS, VW Golf GTI Mk8, Ford Raptor 6.2L

I took a trip this week out to Nashville to see Blondie at the Grand Ole Opry with a friend.

I had 5 charge stops to get there. While I had some trouble on the 3rd charge (note the extra overhead time) it mostly went smoothly. The real pain on this trip were multiple lengthy traffic jams (indicated by red pins.)

Stop 1 - Jefferson Park, Mount Pleasant TX - No issues

Had a good fast charge at full speed on a 350kW pump.

Stop 2 - Walmart, Hope, AR

Another great stop. No issues, I didn't max out the charge due to incoming SoC but it was all fine.

Stop 3 - Walmart - Little Rock, AR

This is where EA started to fail me. One of the 350kW pumps was blocked by a Bolt (facepalm) and the other was delivering only 6kW! I ended up taking a 150kW that was underperforming at just over 100kW.

Stop 4 - Walmart, Forrest City AR

Also a good stop with a nice fast charge. No issues.

Stop 5 - Sam's Club, Jackson TN

This was my final stop before the Opryland hotel. Another top speed great experience!

Once I landed at the Opryland hotel, there were multiple free destination chargers on site.

I selected the one furthest away from others, as I deemed it Porsche-safe.

Concert time!

Return Trip

I returned on the same chargers that I used coming out, and was surprised to find many of them performing markedly different.

Stop 1 - Jackson, TN

I used the same 350kW pump I used coming in, and while it started off delivering peak performance it petered out and died with an error halfway through. Attempts to restart were 6kW and useless, so I had to move to another pump.

Stop 2 - Forrest City, AR

This one went fine.

Stop 3 - Little Rock, AR

This time I was able to grab the 350kW pump the Bolt had previously, and unfortunately it was capped at 75kW making for a frustrating but serviceable charge. I was able to pass the time chatting with curious locals.

Stop 4 - Hope, AR

Probably the best charge of the trip, sparked right up at max speed, no issues.

Stop 5 - Mt Pleasant, TX

I went for the 350kW pump that did me right on the outbound trip, but it refused to start. I had to call EA and get them to restart the charger (first time I've ever had to do this.) That accounts for the very high overhead at this stop.

Epilogue

All in all the return went quicker than the way out, due to less traffic.
Derek,
Thanks so much for the trip journal. How many miles are you getting on a charge? Showing 285 mi at 100% on my MY2022 GTS. Know that we are back from Monterey Car Week, we need to connect here in N. Texas.
Heading to Choctaw tonight to see Black Crowes