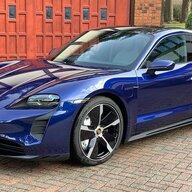 First Name

Rich
Joined

Dec 14, 2020
Messages
Reaction score

8
Location
Vehicles

Taycan Turbo, Macan S, Mclaren 720S

Picked up this Taycan Turbo at the end of October - Brand new having kicked around the idea of a hybrid I decided to go the whole way and see if it is possible to live with a fully electric. Went from thinking about it to getting it in about 2 weeks - probably a bit rash but thought I might as well jump right in

Installed a 40 amp cable to the garage and the car came with a Charge Connect 2 which was duly mounted on the wall having worked out with 32 amp on a single phase ( like the majority of UK properties ) I could charge at 6.5 to 7 KWh. To date it's worked out great and I have yet to use a public charging point even though I have the Porsche charging card which I believe offers some sort of discount on the pay -as-you-go pricing. I've looked at a couple of the UK energy suppliers who offer an EV cheap overnight tariff but the time window they offer is not going to save much as their peak rate is higher and my current tariff, and the average charge period for the car is greater than the cheap rate period offered - so the gains are lost.

I've never owned a car which has required so much manual reading, video watching and in car playing to learn it all.

This in app purchase option seems to be a complete mystery I've even been offered options to purchase that I already have on the car - Like power steering Plus. Others that I might like to consider and the handbook indicated are purchasable on line, are not. What standard options are available where, seems to be a regional thing. Car Play wireless connection - no not here. Phone wireless charging - no not here.

Got the full security tracker package - but the key fob things are not registered - a job for my local dealer apparently but they need the car of a day to do it - I know this is a log in laptop job they could do in the car park, but no they need a day so that is not going to happen anytime soon.

Specified range is a bit of an unknown too. Considering you can't go below 6 percent charge and ideally - for best battery life, an optimum charge level of 85 percent is recommended, the real usable range is around a 188 miles unless you think ahead and give it full charge knowing you are going to need more for your scheduled trip. Trouble is that last 15 percent when home charging takes a whole lot longer, and unless you do the 'direct charging now' thing in the connect app then you are likely to get a 'target charge will not be achievable' message - just before you are about to leave, having had the car connected for plenty long enough but the 'timer charging sesson' with your departure time set has got the calculation wrong - even though you specified 100 percent

So 6 weeks in, 600 miles, and ton of questions I'm still trying to get answers for, I'm still not convinced I want to attempt a long trip - especially with the abysmal charging infrastructure here in the UK. Comes to something when the law makers pass an edict that says 2030 no more ICE car sales but rely on private enterprise to offer the capability to make that possible.

On the plus side - its fun to drive - but then it a Porsche so it should be !!