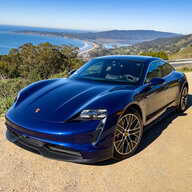 First Name

Rich
Joined

Aug 8, 2021
Threads
Messages
Reaction score

69
Location
Vehicles

'22 Taycan 4S; '18 Tesla Model 3

As a former Tesla owner, I was nervous about a long road trip on the EA network. I have a 22 4S with the ANA6 update. In short, everything worked very well. I charged at E.A. Soledad and Los Alamos on the way down. Both chargers worked fine with plug and charge, although charge rates were typically 90-110kW (and I had navigation to the stations on). I went from 28% to 96% at Soledad, and 20% to 78% in Los Alamos.

In Santa Barbara, both E.A. Goleta and midtown Bank of America worked great although I had similarly slowish charging rates.

On my return trip, I began with <60% charge, and stopped in Santa Maria. Once again, only ~100kW but no issues with hardware or plug n charge. At my second stop in Soledad, I briefly hit 240kW so I was glad to see such rates are possible. Plug n charge was flawless.

All in all I was very happy with my first 800 mile road trip. The car was awesome and I thank my wife again for forcing me to get the massage seats - they're great!