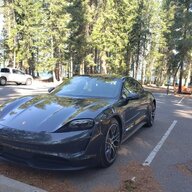 First Name

Frank
Joined

Sep 6, 2019
Threads
Messages
Reaction score

1,392
Location
Vehicles

Taycan 4S

Alright, I'm jumping on the "first impressions" bandwagon. Here is my build. PLSHB2S8
I'll start with the summary. The Taycan is a marvel of a car and unbelievably good. It not only sets a new bar for EVs, but a new bar for cars in general. I have driven a lot of different cars from many manufacturers and I'm incredibly picky.. but the Taycan is just next level stuff. If this isn't the best daily driver ever made.. I don't know what is. (I've owned a 2017 Panamera Turbo, 2017 Macan Turbo, iPace, and lesser cars; extensively driven a 991.2 4S, 992 4S, 2020 RS5, 2020 RS3; messed around in plenty of other stuff)
Things I love about the car;
-Honestly pretty much everything but I'll try to narrow it down.
-Dynamically it's the best balance of sportiness & luxury I've driven. Just fantastic. The handling is absolutely fantastic and certainly on par with a 992, but not as raw as the track focused Porsches.
-The surprising amount of personality in the car. It's dynamically interesting which is something you can't say about other EVs, and frankly most cars these days.
-The car is an absolute road trip cruiser. Quiet, super comfortable, relaxing, but instant incredible power the second you want it. Bonkers.
-Included in this, the car feels like it's standing still at 90 mph. Ultra stable at high speeds.
-The ENTIRE aesthetic of the car. Just the right mix of sporty & understated exterior, a super clean modern interior. The gauge cluster is the best I've ever seen and a joy to use.
-The efficiency. I don't know how Porsche has done it but they've made an EV that scoffs at high speeds and hard acceleration. So far it's had negligible impact on my range or efficiency. I would absolutely feel comfortable hyper miling 300 miles in this car if I needed to.
Things I like about the car;
-The infotainment & climate screen. I have had zero issues with either and I'm surprised how much I like them. They look fantastic and work perfectly for me.. not sure if it's the latest software update or what but I've had zero lag or glitches. I'm also surprised by how much I like the climate screen and scroll pad, initially I disliked them but I've done a complete 180 and really enjoy using it.
Things I don't like;
-The backup & surround camera are mind bogglingly bad. I don't really use them anyway but they are the worst I've ever seen. Maybe a software issue? But barely functional.
-I'm terrified parking it anywhere because I love it and don't want it to get scratched.

I would 100% buy this car over any Porsche with a turbocharger. I think it's better than a 992 and much much much better than a Panamera. I'd still take a NA flat six with a stick for a day around the track but I'd want to drive home in the Taycan.