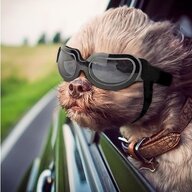 First Name

Neil
Joined

Jan 18, 2022
Threads
Messages
Reaction score

79
Location
Vehicles

2021 taycan 4s

******************************
to help see if your car has this issue....
******************************
i have had this happen going straight on roadways - i'm talking 0° of turn in the road
HOWEVER, driving through a puddle while doing a sharp turn (1-3 mph) - or driving through a puddle THEN doing a sharp turn (like a U-turn) - THEN your next stop will do this (if your car is afflicted with this issue)
When i was with the service tech, we found a fairly empty parking lot, with a 1-1.5" (2-4cm) deep puddle - would drive through it, then do a U-turn and the next stop wouldn't stop.
i have a deep puddle coming out of work, but if i hit it going straight it doesn't tend to happen, only if i go through it then take a hard turn - THEN that next stop won't engage. IN MY HEAD - there are sensors of some sort slightly off to the side of the tire, and when the tire is turned it kicks enough water onto them to trigger them, then for some reason they disable the braking - but going straight doesn't tend to put enough water on them to get them to trigger.
Again - i hope your car ISN"T afflicted - but that's what does it on mine.
we're not talking submerging the car - this is the puddle that does it for my car