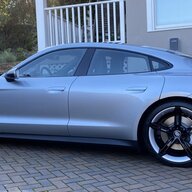 Joined

Jan 22, 2022
Threads
Messages
Reaction score

1,573
Location
Vehicles

2022 Taycan 4S

This is wrong: "the AWD torque vectoring capabilities offset any negligible handling benefit of a slightly lighter front end." By handling, we're talking about cornering - not straight line acceleration. The only torque-vectoring that enhances rotation happens at the rear axle. Add power during a turn, and a RWD car (with a limited slip diff) will turn in, while an AWD system will try to pull the front wheels straight, causing understeer. Porsche's AWD system is brilliant, of course, and tries to mimic RWD characteristics by putting power to the back until traction limited. As more torque goes to the front under more power, though, you get understeer - and that's a fact. If you doubt this, please explain to us why Porsche adds AWD to none of its track-focused cars.

Add ~200 pounds to the nose on the 4S, and I hate to break it to you: a RWS with equivalent performance options to a 4S (RWS, PTV, air suspension, sports+ with chrono option, and same tires) will turn in marginally better/plow less due to the lighter nose and will rotate slightly better under power. I don't want to overstate it - no Taycan is a sports car. But, be that as it may, a performance-optioned RWD will be just that little bit sweeter in twisties than a 4S. Obviously a 4S will drop the RWD on the straights.

I have a serious question for you: What is your story? I don't see you as a troll, but throughout the entire chain any suggestion that the RWD has something distinct and better to offer - no matter how limited - has clearly bothered you. I'm curious why. It's apparent from what you write and also from what you don't. You've refused to acknowledge what's obvious to anyone driving the RWD - the power ramps up, and the car pulls hard after 30. This isn't subjective - to your prior aspersion - but backed up by objective facts in the 30-50, 50-70, and trap speeds. You ignore all of that, fixate on 0-60, and relegate the RWD to the company of a host of "not fast" cars.
If you want to understand my points, just read what I actually wrote. I'll summarize.
The RWD Taycan is a brilliant car. Because the Taycan is a brilliant car. Not because there's something special about it versus the other variants.
And let's correct the inaccuracies that you keep restating. The RWD is not only much slower 0-60, it's also much slower 30-70, the range you keep referencing. It's 27.5 percent slower than the 4S in this range. And near identical to a Golf R. Which I owned 3 years ago. The Golf is a quick car, not a fast car. The 600hp M5 I traded it in on was a fast car.
Finally, as regards handling, you're totally ignoring the impact that torque vectoring AWD has on handling, which is significant. The RWD car is not faster in the twisties versus the 4S.