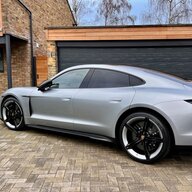 First Name

Tom
Joined

Nov 28, 2020
Messages
Reaction score

238
Location
Vehicles

2021 Taycan Turbo

There are so many threads on here about track days or how well the Taycan handles or driving experiences compared to other cars. Well let me give you another perspective: that of a learner driver.
Much to even my own disappointment, this is not the story of a teenager with rich parents, but a 34 year old man who suffers from acute physical laziness. I had zero interest in cars and pushed learning to drive so far down the priority list that it just beat out Train Station Spotting and watching some dried paint get drier.
All that changed when my wife became pregnant, we started looking into family cars and I realised that this car fad wasn't going away and might prove useful one day. The problem with my type of obsessive personality is that I can find almost anything interesting and get carried away in reading up on it, which is how I ended up spending the majority of lockdown 2.0/2.5/3.0 or whatever it was, with you fine folk.
I started taking driving lessons last year, but some event that I can't even remember now disrupted it. Were it not for Covid, I'm convinced I would have received my license at the perfectly reasonably age of 33, but instead I had to wait until the laugh-inducing, geriatric-esq 34 to take my test.
During this brief break in living, I was left in charge of finding the family car. I'm sure you can suss out that after seeing the Taycan there was only ever going to be a winner, so in December 2020 I put down a deposit and subjected my wife to a car she didn't want, which arrived at the end of March. Fortunately it was love at first sight between said wife and Taycan, so I was allowed to keep my testicles, and she has loved it ever since.
http://www.porsche-code.com/PMY9USY6
Fast forward to June. I passed my driving test (first time, thank you for asking) and have spent the four weeks since trying to assess my survival instinct vs stupidity as to whether my first solo journey should be in a Taycan Turbo. Stupid won this round. In fact, it tends to win all of them. So last night I finally found the courage, and sensibly found it without going to the bottom of a bottle. I did say when I joined these forums I wouldn't be idiotic, but months of lockdowns spent reading of all your enjoyment has done me no good. What I'm saying is: this is all your fault.
So as someone with driving experience measured in tens of hours, that now has approx 20 miles of solo experience, what are my impressions?
I was terrified of the width, but found no issues and could clearly tell how close I was to the middle of the road
Try as I might, you cannot put Learner/Just Passed tags on the Taycan
The cameras make parking incredibly easy (I did try and cheat and use the auto-park, but it failed me)
Heads up Display meant I never had to look down and could clearly see that I was doing 3mph the entire time. I'm very pleased I specced it.
The touch controls definitely require some effort to learn. They were definitely not built in mind for a learner driver, who is trying to demist the cabin whilst driving. Come on, Porsche, don't discriminate against us pragmatically challenged.
On that note, I recall being told that the Taycan can automatically demist for you, but it certainly did not work last night.
I spent 10 minutes trying to figure out how to turn on the rear wipers, only to remember there aren't any. It was raining last night, so there was zero visibility out of the back and I've just spent every lesson being taught to check the rear mirror, then side mirrors, so what a waste of time that was.
There are so many safety features here that I might, just might, not die
Ignoring that my point of reference of cars is a 2021 Taycan Turbo and some 15 year old Vauxhall Corsa, I can conclusive say, with no hyperbole, that the Taycan is the greatest car…….in the world - by my standards.