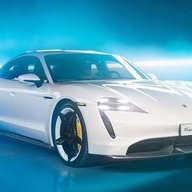 Joined

Feb 22, 2019
Messages
Reaction score

430
Location
Vehicles

Ford Fiesta

It doesn't.

Life is too short.

If

'driving' ranks high as one of life's simple pleasures....compromise should not be in the cards.

Everyone's different. You know your own priorities......you know how you rank them.

I've driven a 911 home after work for many years......rain, snow, winter, summer.

There a days I would not trade that for anything in the world.

If a person can get that kind of pleasure from a Macan or Audi TT.....more power to them.

Taycan will be a 'good car' but IMHO.....but the way it sits now, it will only rate as a good dog-hauler for the wife to drive for a couple years.

I would have felt differently about the Mission E body.

When you get out of your car and start to walk away......do you always have that hankering to turn your head for one more look?

For me that's also one of life's simple pleasures.
You may yet be in for a pleasant surprise.
I've never yet known a car company that uses its concept model in an infotainment screen of its production model. I could be wrong and this could be the first time, but I hope Porsche will surprise me.